Canadian Studies: Poetry
We have selected 10 outstanding poets who have been anthologized, selected for course adoptions or have won major prizes...great requisites for Canadian studies programs.
For a more complete poetry listing, including poetry translated from the French,
please visit our Signal Editions page.



Anne Wilkinson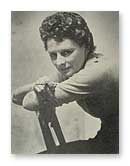 click on image
for more detail


ed. Dean Irvine

Anne Wilkinson (1910-61) holds a distinguished place among the major Canadian modernist poets of her time. Her poetry collections were praised by Northrop Frye, Desmond Pacey, Earle Birney, and Dorothy Livesay. Editors of literary magazines, including Alan Crawley, John Sutherland, Louis Dudek, and Fred Cogswell, actively sought her poems. Michael Ondaatje's novels In the Skin of a Lion and The English Patient have paid quiet homage to her poetry and journals.

Heresies: The Complete Poems of Anne Wilkinson (1924–1961) is a comprehensive edition, including all of Wilkinson's previously collected, uncollected, and unpublished poems. In addition to reprinting her volumes Counterpoint to Sleep (1951) and The Hangman Ties the Holly (1955), this edition incorporates other poems first collected in A. J. M. Smith's edition of The Collected Poems of Anne Wilkinson (1968) and 46 previously uncollected poems omitted from his edition.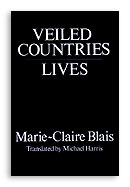 Marie-Claire Blais - Translated by Michael Harris
Veiled Countries/Lives
are two discrete series of poems (published in French in 1964), which are now available in English.
Marie-Claire Blais is the recipient of many awards, such as the Prix France-Québec, the Prix Médicis, the Governor General's Award for Fiction and for Poetry, the Prix Belgique-Canada in 1976, the Prix Athanase-David in 1982, and the Prix de l'Académie française. In 1999 Blais was made Chevalier, Ordre Des Lettres, Ministére de la Culture, France.
Stephanie Bolster - Winner of the Governor General's Award for Poetry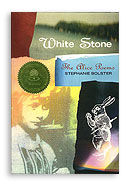 The Governor General's Award jury citation:
"
White Stone the Alice Poems
was judged the best book of poetry in 1998 for as many reasons as there are poems in this powerful sequence, but due primarily to Stephanie Bolster's ability to depict the emotional life of Alice Liddell as girl and woman in brilliant narrative juxtapositions. She uses her lyrical powers to present Alice the creation and Alice the person in a cultural context that, on one level, re-examines cognition and dissociation and on another, liberates the poetic sequence from the monotony of story and closure."
These evocative poems move from the icon of Alice in Wonderland to the imagined figure of Alice out of Wonderland--on a Vancouver beach with the poet, underground with Persephone, in Memphis with Elvis. But first they explore the life of the real Alice Liddell (1852-1934), who sat still for Charles Dodgson's camera and inspired the Alice books which prompted his rise to fame as Lewis Carroll.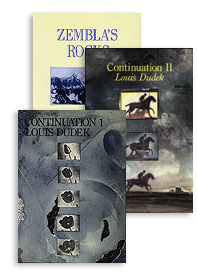 Louis Dudek




Louis Dudek's contribution to Canadian literature has been essential--He is Canada's "first man of letters" as Wynne Francis so aptly put it.

Generally acknowledged as the pioneer of the Canadian long poem, Dudek was active as a critic, teacher, modernist theoretician, editor and publisher for over four decades. In 1981 Frank Davel and bp Nicol said that "Dudek's centrality to Canadian poetry will become indisputably apparent. His work binds Smith, Scott, and Klein to the writing of the present generation. It links Canadian writing to the great modernist descent from Joyce, Pound, Eliot, and Williams."






John Steffler
For the last twenty years, John Steffler has written poems of profound philosophical curiosity grounded in the landscapes of Newfoundland, Southern Ontario, Greece, and New Zealand. In Helix, Steffler's fifth book of poetry, we see the full result of those travels: a lyricism distinguished by its scrupulous phrasing, thrilling evocativeness, and deep-timbred music. Helix presents arresting new work together with a selection from Steffler's three previous much-praised volumes: The Grey Islands, The Wreckage of Play, and That Night We Were Ravenous. This collection is maybe the most persuasive argument yet for considering Steffler, in Don McKay's words, "Canada's most sensuously passionate writer."
Helix is short listed for the Newfoundland and Labrador Book Awards 2003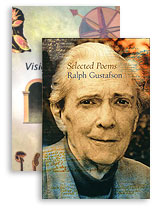 Ralph Gustafson



Winner, 1997 QSPELL Hugh MacLennan Prize for Poetry

Visions Fugitive is Ralph Gustafson's last book of poetry, completed not long before his death in North Hatley, Quebec, in May 1995. In a writing career that spanned sixty years he published many volumes of poetry and edited the influential Penguin Book of Canadian Verse. Fire on Stone, published in 1974, won the Governor General's Award for Poetry and Configurations at Midnight received the 1993 QSPELL A.M. Klein Poetry Prize.
Early in the month of May 1995, only days before his death (1909-1995), Ralph Gustafson completed two manuscripts. In 1996 Véhicule Press published Visions Fugitive. The second manuscript was a modest "selected" which we present just as he intended.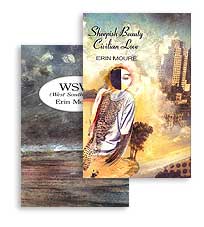 Erin Mouré
Erin Mouré
is a Montreal-based poet and is recognized as one of Canada's most innovative poets. Her collection of poems, Furious (House of Anansi), won the 1988 Governor General's Award and WSW-West South West (Véhicule Press) won the 1990 QSPELL A.M. Klein Prize. Influenced by post-modernist, deconstructivist thought, Mouré challenges the conventions of language in her poems. Her latest collection, A Frame of the Book (House of Anansi), was short-listed for the 1999 QSPELL Prize for Poetry.
"She continues to be one of our most unpredictable and intellectually challenging poets." - Toronto Star

Eric Ormsby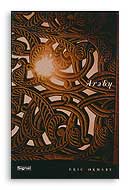 Eric Ormsby's poetry has appeared in most of the major journals in Canada, England, and the U.S., including The New Yorker, The New Republic, Paris Review, Descant, and Parnassus. His first collection, Bavarian Shrine and Other Poems won the 1991 QSPELL Poetry Prize, and in the following year he received an Ingram Merrill Foundation Award for "out-standing work as a poet." His last book, For a Modest God: New and Selected Poems (1997), was published with Grove Press in New York. Eric Ormsby is a professor at the Institute of Islamic Studies at McGill University and has travelled widely in the Arab world.


Araby is a new collection of poems on the adventures, dreams, hopes, and
imaginings of two singular characters: Jaham, the "Father of Clouds," a semi-nomadic poet and auto mechanic, and his inseparable sidekick Bald Adham, also a virtuoso mechanic as well as pillar of Muslim piety.




Elise Partridge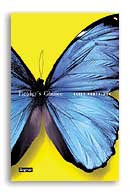 Short listed for the prestigious 2003 Gerald Lampert Memorial Award

Filled with rich evocations of childhood, travel and landscape, Fielder's Choice, Elise Partridge's masterful debut, delivers up fresh and striking elegiac poems that grapple with their subjects vigorously, unpredictably, and without sentimentality. Partridge's poetry combines a gifted ear for the vernacular and exuberant verbal skills with an exceptional--and often emotionally powerful--lyric intelligence.

Elise Partridge's prize-winning poems have appeared in Canadian, American, and Irish journals, including Poetry (Chicago), Books in Canada, The Fiddlehead, The Malahat Review, Canadian Literature (Fall 2002), Slate, The New Republic, Boulevard, and Poetry Ireland Review. In 1987 Elise Partridge won a "Special Commendation" in the Arvon International Poetry Contest, judged by Seamus Heaney and Ted Hughes. She is an editor and tutor in Vancouver.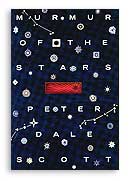 Peter Dale Scott



Peter Dale Scott's Murmur of the Stars is a work of extraordinary insight and charm, threaded through with the world vision of the diplomat and political activist--and with the more intimate, equally intense recognition of the humanist. Poet, professor, scholar, translator, traveller--Scott's rich and varied life experience is wondrously reflected in this collection of his poetry.

Peter Dale Scott's Coming to Jakarta: A Poem About Terror was a Governor-General's Award finalist and Listening to the Candle: A Poem on Impulse was listed by Publisher's Weekly in their Best Books of 1992.
Published in the United States by New Directions.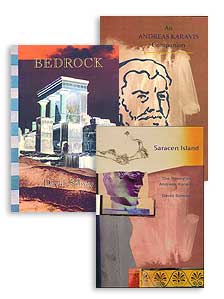 David Solway
David Solway
is a poet and a critic. Though he lives in Montreal, Solway finds inspiration in Greece, where most of his work is written. His poetry has been published in leading North American journals and magazines. His works include a translation of and a companion to the work of Greek poet Andreas Karavis, Saracen Island: The Poems of Andreas Karavis and An Andreas Karavis Companion (Véhicule Press, 2000)--works which have caused great international uproar surrounding certain questions of authorship. Solway has also written two controversial books criticizing postmodernist theories and current trends in education.
Back to Top