Canadian Studies: Fiction
Here are 10 outstanding Canadian authors ranging from the "folkloric father figure of Canadian literature," Philippe-Joseph Aubert de Gaspé, to contemporary Montreal writers such as Andy Brown and rob mclennan.
For more information about our new fiction series, visit Esplanade Books.



Philippe-Joseph Aubert de Gaspé
Yellow Wolf & Other Stories. Winner, 1990 Governor-General's Award for Translation
These fireside tales, now translated for the first time from the French, were originally published posthumously in 1893. Translator Jane Brierley's introduction and annotations provide fascinating insights into the life and times of one of the fathers of Canadian literature.
Canadians of Old


One of the cornerstones of Canadian literature--appeared in 1863, in the midst of the American Civil War and on the brink of Canadian Confederation. It offered the first genuine fictional exploration of the pivotal event in the emerging nation's past and was enthusiastically received by Canadian readers, both French and English. The author was one of the last Canadian seigneurs and a descendent of some of New France's most distinguished families. His novel is the bittersweet tale of a family caught in the web of war--a story of friendship, love, and conflicting loyalties. He draws on personal and family memories to paint a picture of mid-eighteenth-century Quebec before and after the Seven Years' War: rollicking schooldays in Quebec, rural and family life on the seigneurie, Indian encounters, the great battle, and the trials of reconstruction in a shattered society.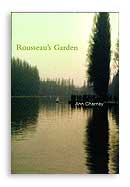 Rousseau's Garden by Ann Charney

A crisp March morning in the Buttes-Chaumont park in Paris. Claire, waiting to meet her husband, Adrian, has more than a tourist's passing interest in the place. She has come to France from Montreal to be with Adrian while he researches a book on French gardens, but Claire's real mission is to find out what happened to her mother, Dolly, during her last stay in Paris. A promising sculptor and ardent admirer of the philosopher Jean-Jacques Rousseau, Dolly suffered a mysterious decline following her return home from the City of Light. Now severe panic attacks are forcing Claire to abandon her own work as a photographer. Is she repeating her mother's pattern? The answer, Claire believes, lies in the past.

Claire retraces Dolly's footsteps in Paris and in the nearby countryside, where Rousseau's spirit is still discernable. Claire's quest in France is filled with more than one startling discovery as she, Adrian, and their friends, navigate the tricky terrain of marriage, parenthood, friendship, and love.

"Canadian author Charney has the wisdom to let her story speak for itself, and it does so very affectingly. The result is a quiet, dignified work with telling insights that make one pause to reassess one's own life. A lovely little gem." -Barbara Hoffert, Library Journal.



Recovering Rude by Rana Bose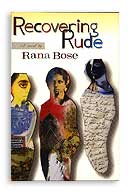 Rana Bose's first novel begins in a comfortable Calcutta neighbourhood where the sons and daughters of the well-to-do have perfected the art of transforming themselves into street urchins. After school and at night, mostly on the threshhold of adolescence, they eagerly mix with fascinating visitors from the edge of town who carry the seeds of Calcutta's legendary social unrest. Their political activity takes place in the carnival atmosphere of the city's streets and markets, until a bloody political clash turns them into adults before their time. And while they inevitably grow up and grow apart, their lives remain inextricably linked by the carnage and cover-up they were powerless to do anything but witness.

Rude, a young rebel with a cause, keeps a diary which is confiscated by a corrupt anti-terrorist poice officer. Twenty years later, Nina, who might have loved Rude, decides at all costs to recover the diary and the history that was stolen from them.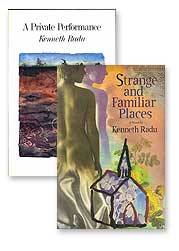 Kenneth Radu



A Private Performance. Winner of the 1991 QSPELL Fiction Prize

These carefully crafted fictions about the damaged lives of an exotic assortment of characters are poignant, comic, arch, mischievious, and artful. All here is not as it seems to be--the face these characters show us is not the only face we see. Finely controlled as they are, these stories are expressions of desperation, and though apparently cool and dispassionate, they reverberate with emotional tension.



Strange and Familiar Places

, a passionate and gripping novel of ideas and sex, of music and art, of creative play and deadly psychopathology, refuses to provide easy exits from contemporary confrontations and anxieties. Depicted in a series of vividly dramatic tableaux, narrated from different points of view, the novel focuses primarily upon an independent-minded woman who rejects the religious and moral pieties of the day. Sometimes at the edge, sometimes in the centre of the bilingual community she inhabits, she plays dangerously with temptation and seduction, risking her marriage to a minister whose beliefs she does not share, alienating her daughter, and salvaging her damaged heart.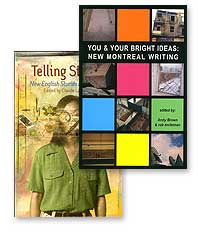 You & Your Bright Ideas: New Montreal Writing
eds. Andy Brown & Rob mclennan

English writing in Montreal has had the distinction of being isolated from the rest of the country, left to stew in its own creative juices, with very few English-language presses and little support for English work. Consequently it has developed along alternate paths and has created its own vibrant culture. The spoken-word community in particular has become a source of envy outside the city. The writing in this anthology, international in scope, reflects the migratory nature of the anglophone community while drawing inspiration from the city itself.

Telling Stories: New English Fiction from Quebec
ed. Claude Lalumière

Three years ago Montreal's CBC Radio (88.5FM) and the Quebec Writers' Federation established the CBC-QWF Short Story Competition. The winning stories were broadcast on CBC's "Art Talks" hosted by Katherine Gombay. Telling Stories brings together the winners and finalists of the first three years.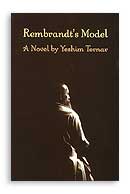 Rembrandt's Model by Yeshim Ternar

Ternar draws upon the turbulent history of Sephardic Jews in 17th century Amsterdam, the artistic preoccupations of the elderly Rembrandt, and the controversial convictions of the false messiah of Smyrna to create an entrancing tale. The central character of the novel, Samuel, is the man with his back to the viewer at the centre of a Rembrandt etching which depicts a group of Jewish men conversing in front of a synagogue. Ternar's expansive novel gives Samuel a face and a life history.

Rembrandt's Model imaginatively suggests how the Wandering Jew--whether travelling in real life, in an etching, or in a dream--was crucial to the spiritual identity of both the Western European and Ottoman cultures. The mystery and wonder of Ternar's novel envelops us as we travel over time and place with Samuel--spanning the centuries to the present day, from Spain, to Amsterdam, to Istanbul, and to Montreal.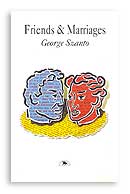 Friends & Marriages by George Szanto
Winner of 1995 QSPELL Hugh MacLennan Prize for Fiction

Spanning two decades in the lives of the generation that came of age in the 1960s. A story cycle about a past, and a present, strewn with unfinished relationships. The men and women whose lives intersect in these connected stories are drawn away from the cities where they live to Mexico, to Greece, and to the hinterlands of Quebec and Vermont. There, in the clear light of day, they find the confusions and regrets of their lives vying with the unhurried pleasures of the wilderness.

These deeply felt, thoughtful, and admirably unsentimental stories, tinged not only with anguish but with a fisherman's quiet, resilient hopefulness, are for everyone who has stopped in mid-stream to cast a backward glance over life and love.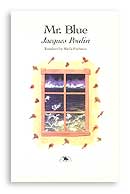 Mr. Blue by Jacques Poulin
Translated from the French by Sheila Fischman
Winner of the Prix France-Québec (French language edition)

Mr. Blue is Jim's cat and his sole companion until the day they discover a copy of The Arabian Nights in a cave along the beach. From then on, the novel Jim is writing develops in unexpected ways. For "words are independent like cats, and they don't do what you want them to."

"Fischman conveys the beauty of the author's spare prose." - Globe & Mail

"This is a great and very beautiful novel." - Le Devoir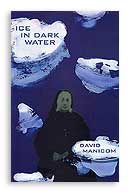 Ice in Dark Water by David Manicom
Winner, 1997 (Mordecai Richler's) Prix Parizeau for Fiction
David Manicom's eloquent debut collection. Stories of loss and yearning and multi-generational family ties which reflect the author's deep roots in rural Ontario, and the title story, "Ice in Dark Water"--the startling tale of the last surviving nun in a Montreal convent.
David Manciom is the author of three books of poetry, including the recently-published The Older Graces (Oolichan). Books in Canada called Manicom "a poet to read, study and memorize...his lines shimmer and sing."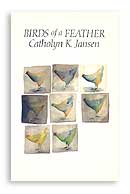 Birds of a Feather by Catholyn Jansen



Birds of a Feather is Catholyn Jansen's dramatic debut as a writer of fiction. A highly original work of startling imaginative power, this collection of linked short stories about working-class women is set in the small town of Tisol, Ontario. Many of the women spend their weekdays at Beadleman's Poultry Processing Plant--one of the most vividly-realized workplaces in contemporary fiction--and their Saturday evenings at the Tilsol Inn.

Grittily realistic in its evocation of the lives of working women, Birds of a Feather is also comic in the attention it pays to their unglamorous jobs at Beadleman's. And it is gripping in its account of the fury the women unleash on the town's violent womanizer.



Back to Top