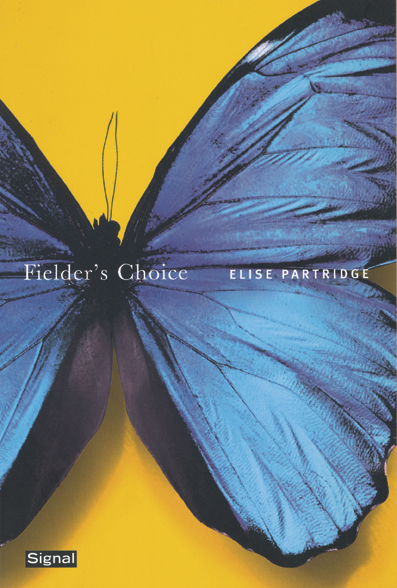 Fielder's ChoiceElise Partridge
Filled with rich evocations of childhood, travel and landscape, Fielder's Choice, Elise Partridge's masterful debut, delivers up fresh and striking elegiac poems that grapple with their subjects vigorously, unpredictably, and without sentimentality. Partridge's poetry combines a gifted ear for the vernacular and exuberant verbal skills with an exceptional–and often emotionally powerful–lyric intelligence.
Signal
Poetry 2002
"An exemplary book, and a debut to celebrate." -National Post

"Exquisitely restrained." -Vancouver Sun

"Partridge's adjectives bristle with life." -Books in Canada

"Partridge's work with interiors (of houses and women) and exteriors (the garden as feminine space) is especially insightful and rich." -Canadian Literature

"Witty and compassionate, her polished stanzas [are] neat-but not too neat-in scansion and rhyme." -The Bostonia

"Elise Partridge is a gift: a writer with a heart unashamed to tell us what it loves." -Stephanie Bolster

"Fielder's Choice is an exemplary book, and a debut to celebrate." -National Post

"Partridge is a connoisseur of her surroundings, and can deliver a rich and textured palette to her readers." -The Montreal Gazette

"[These poems] should place Partridge among the best of the newer Canadian poets using form." -Globe and Mail
Elise Partridge's prize-winning poems have appeared in Canadian, American, and Irish journals, including Poetry [Chicago], Books in Canada, The Fiddlehead, The Malahat Review, Canadian Literature [Fall 2002], Slate, The New Republic, Boulevard, and Poetry Ireland Review. In 1987 Elise Partridge won a "Special Commendation" in the Arvon International Poetry Contest, judged by Seamus Heaney and Ted Hughes. She is an editor and tutor in Vancouver.
Trade paperback
96 pp 8.5" x 5.5"
ISBN13: 9781550651706

CDN $14.00 US & International
US $14.00