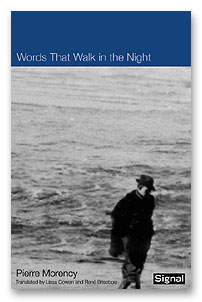 Words that Walk in the NightPierre Morency
Translated by Lissa Cowan
Morency's subtlety of language gives us a heightened sense of the everyday that tells us something about our humanity. By focusing on the reality of familiar things, he reveals how we are constantly being reborn in different ways. In every word and every phrase nature is present in Words that Walk in the Night - even in the city. But Morency's poetry is never a restricted view of "city" or "nature." He shows us that just as we can inhabit a landscape, we can also inhabit poetry. Words that Walk in the Night is a translation of Les Paroles qui marchent dans la nuit, published by éditions du Boréale [1994].
Signal
Poetry 2001
"Morency's tone has evolved, from the poems of his late twenties, towards a form of stylistic and emotional asceticism. What is remarkable, however, is that the author is always there, often appearing at the last minute with stunning efficacy." -Edmond-Louis Dussault, Books in Canada
Poet and dramaturge Pierre Morency is one of Quebec's most honoured writers. He is the recipient of the Prix Ludger-Duvernay [1991], Prix France-Québec [1992], and the prestigious Prix Athanase-David [2000]. In 1993 France made him a Chevalier de l'Ordre des Arts et des Lettres.

Lissa Cowan has worked as a translator and writer in Montreal and Vancouver. She recently received a writing fellowship at the Banff Centre for the Arts to complete a novel. She works as a publication co-ordinator and non-fiction writer in Vancouver, British Columbia.

René Brisebois recently participated in the Canadian Encyclopedia of Writing project [University of Toronto Press] as a researcher and writer. He teaches French and is a research assistant at the University of British Columbia.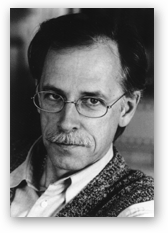 Trade paperback
112 pp 8.5" x 5.5"
ISBN13: 9781550651539

CDN $16.00 US & International
US $16.00