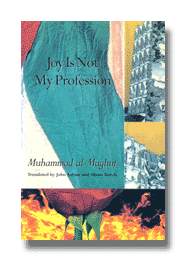 Joy is Not My ProfessionM. Al-Maghut
Muhammad al-Maghut is a compelling voice in modern Arabic poetry. His inventive use of poetic language spotlights pressing social themes, as well as political, and often self-directed satire—ranging from the subtle to the outrageous. Al-Maghut's work is a unique blend of scalding irony and harsh realism, constantly teetering on the edge of black humour.
Signal
Poetry 1994
Born in Syria in 1934, Muhammad al-Maghut has lived mainly in Beirut since the mid-fifties. In recent years he has lived in Damascus, though he frequently visits Beirut. Besides writing poetry and fiction, al-Maghut has gained a reputation as a noted playwright and screenwriter.