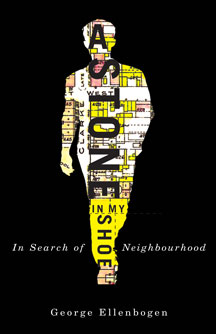 A Stone in My Shoe: In Search of NeighbourhoodGeorge Ellenbogen
In poet George Ellenbogen's exquisitely-written memoir, the discoveries ripple outward. What surfaces-the markers of his parents' navigation in a new world and his own childhood and adolescent experiences in the 1940s and 50s-extend to us all. They become part of the universal map in which we recognize our own quirky courses into childhood, adolescence, adulthood.
Stone in My Shoe is the author's discovery of how Montreal's immigrant neighbourhood-a tight-knit community– with extended families that had its own shops, institutions, and daily Yiddish newspapers, sustained him and his family, and sustained thousands.

Biography & Autobiography 2013
George Ellenbogen is a cartographer of the heart and of the memories it contains… In describing his fondness for the work of French painter Édouard Vuillard, Ellenbogen explains that the artist experiments "with ways of seeing, ways of knowing." As a work of art and a family genealogy, A Stone in My Shoe experiments with this approach by navigating the past with love, abundance, and literary resonance. --Deanna Radford, Montreal Review of Books

"George Ellenbogen is a memoirist of exceptional talent. Not only does he depict scenes from his childhood with an eye for what is touching, but his writing is poetic and his descriptions lovingly crafted."  - Pierre Anctil, University of Ottawa

"There is celebration here, hard won, and ultimately gratitude, for the hardiness and holiness of growing up in a neighbourhood where community triumphed over recklessness, and relationship and reconciliation over the vagaries and freedom of adventure."-Di Brandt
George Ellenbogen is the author of four books of poetry, most recently Morning Gothic: New & Selected Poems. His books have been translated into German and French and he is featured in a documentary film, George Ellenbogen: Canadian Poet in America. A Montrealer by birth and upbringing, he lives in Boston.
Other books by George Ellenbogen:
The Rhino Gate Poems
Morning Gothic: New and Selected Poems
Along the Road from Eden

Trade paperback
180 pp 8.5" x 5.5"
ISBN13: 9781550653564

CDN $18.95 US & International
US $18.95