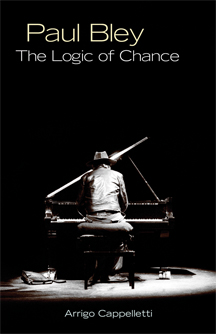 Paul Bley: The Logic of ChanceArrigo Cappelletti
Translated by Gregory Burk
Arrigo Cappelletti retraces the life one of the most complex and mysterious personalities in the history of jazz. Paul Bley, born in Montreal in 1932, is one of the most important exponents of jazz of the last 50 years. He occupies, among the pantheon of jazz giants, an eccentric and aristocratic position, a reflection of a restless spirit, free and anarchic. An advocate of improvisation, he has always favored free jazz.Bley honed his talent in the bands of Charlie Parker, Charles Mingus, Lester Young and Sonny Rollins. He played with jazz icons such as Keith Jarrett, Don Cherry, Ornette Coleman and Carla Bley.
Music 2009
Arrigo Cappelletti, author of Il Profumo del Jazz, is an Italian pianist, composer and professor of Jazz at the Conservatory of Venice. He writes for numerous publications such as Musica Jazz and Allaboutjazz.
Trade paperback
160 pp 8.5" x 5.5"
ISBN13: 9781550652529

CDN $17.95 US & International
US $17.95