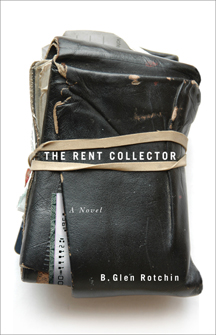 The Rent CollectorB. Rotchin
The fashion business meets Kabbalah in Montreal's garment district.In a novel that does for Chabanel Street what Mordecai Richler's The Apprenticeship of Duddy Kravitz did for St. Urbain Street, a 36-year-old Orthodox Jew, Gershon Stein, collects rent in a large industrial building in the heart of Montreal's needletrade. Meanwhile, he struggles to reconcile his relationship with his ailing Holocaust-survivor father, find balance in his family life, and match wits with his arch-nemesis, Joey Putkin, an Israeli leather coat manufacturer leasing the basement of his building.Gershon's days are occupied by an array of colourful tenants: Arnie Free, who makes footwear for Hasidic Jews and strippers; Sonny Lipsey, whose shtick is giving industry characters the perfect nicknames; and the delicate Michelle Labelle, whose face seems to emit a mysterious light. If there is one thing Gershon knows, it's that life is rented and everyone has a debt to pay: to their landlord, their family, their community, and, most of all, to their soul.
Fiction 2005
"The Rent Collector is a stunning debut. I can safely say this, because I'm stunned that this is the first novel Rotchin has published--it seems too self-assured, too well-written, and too wise to be such a thing." -Paul Quarrington, author of Whale Music and Galveston

"This complex, sensitive and erudite story thrusts us into a series of historical, spiritual and religious grey areas.... Rotchin's warm, aphoristic voice... skilfully crafts moments of humour, wisdom and sensuality." -Hour (Montreal)

"B. Glen Rotchin... [uses] an old-fashioned realist approach to tell an insistently small story with utmost care. The result is a genuine pleasure, a first novel of insight and tenderness." -The Gazette
B. Glen Rotchin has worked in the garment district of Montreal. His poetry and fiction have appeared in several literary journals, and he co-edited the poetry collections Jerusalem: An Anthology of Jewish Canadian Poetry and A Rich Garland: Poems for A.M. Klein.

Trade paperback
228 pp 8.5" x 5.5"
ISBN13: 9781550651959

CDN $19.95 US & International
US $15.95

Ebook
8.5" x 5.5"
ISBN13: 9781550653786

CDN $19.95