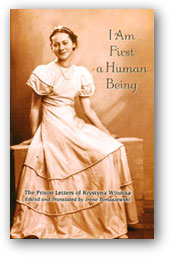 I Am First a Human Being: The Prison Letters of Krystyna WituskaEdited by Krystyna Wituska
Translated by Krystyna Wituska
On the eve of World War II a carefree, rather spoiled teenager, Krystyna Wituska, returned to Poland from her school in Switzerland. Evicted from their estate when the Germans invaded Poland, the family fled to Warsaw where Krystyna, by then 20 years old, found work, continued her studies in secret, and drifted into the Resistance. By her own admission, she was attracted at first by the adventure of it, but youthful bravado soon turned into a mental and spiritual mastery over fear. By late 1941 Krystyna joined the precursor of the Polish Underground and because she spoke fluent German, was assigned to an espionage cell in Warsaw to collect information on German airforce movements at Warsaw's airport. In 1942, at the age of twenty-one she was arrested and interrogated by the Gestapo. She was transferred to prison in Berlin and executed two years later. In the last year of her life Krystyna wrote over sixty poignant letters which through the kindness of a courageous prison guard were smuggled to her parents or to the guard's daughter, who became her pen pal. From the moment she was arrested Krystyna would not allow her spirit to be broken and believed that "the noble that is within us will not perish." In the time that was left to her she reveled in the pleasures that were uniquely human—learning languages, treasuring the poems of her prison friends—the sun caressing her face during a brief outing was "better than a kiss." With love and compassion Krystyna wrote not just about herself but about all those who shared her fate. The letters read like a story in which the reader shares Krystyna's hopes and anxieties as one by one the fate of the prisoners is decided. After the German defeat at Stalingrad, Hitler ordered mandatory death sentences for all spies. As her end approached, Krystyna was more concerned about her parents than she was with herself. She exhorts her mother to hold her head high and to have courage, no matter what: "When you smile, I smile with you, but when you cry, I cry with you."
Biography & Autobiography 1998
Irene Tomaszewski was born in a Soviet concentration camp and came to Canada via East Africa and England in 1949. A graduate of Montreal's Concordia University where she studied history, she has published articles, reviews and short fiction in newspapers and magazines. She co-authored, with Tecia Werbowski, Zegota: The Rescue of Jews in Wartime Poland.