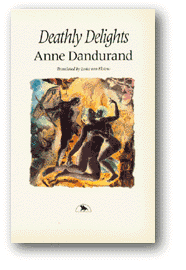 Deathly DelightsAnne Dandurand
Translated by Luise Von Flotow
Awards: Finalist, 1991 Governor General's Award for Translation
Tales of desire and crimes of passion set in dark alleys and closed bedrooms: perfect murders and strangely erotic encounters by desperate, angry women. Deathly Delights is Anne Dandurand's third collection of short stories; her first to be translated into English.
Fiction 1998
"In these unconventional pieces, sex and death are never far apart ... she is mordant and morbid in a refreshing way." -Globe & Mail

"Dandurand's method of storytelling is atmospheric and colourful, a distinctive kind of Montreal Gothic."-Whig Standard
Anne Dandurand lives in Montreal. She is an actor, producer, and labour and feminist activist, as well as the author of several books. Her works translated into English include Deathly Delights, The Waiting Room, and The Cracks [both published by The Mercury Press]. Quill and Quire named Dandurand among the top ten novelists under 40 and she is the winner of the Grand Prix de la nouvelle pour la jeunesse [Paris, 1990].
Trade paperback
92 pp 9" x 6"
ISBN13: 9781550650228

CDN $12.95 US & International
US $12.95