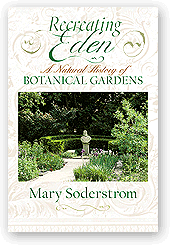 ---
Recreating Eden:
A Natural History of Botanical Gardens [347]

Mary Soderstrom

---
[Gardening / Travel]

Recreating Eden: A Natural History of Botanical Gardens takes garden lovers on a tour of nine of the most beautiful and interesting gardens in the world. It is also a lively history of the idea of the botanical garden and its origins in what the Mosaic tradition calls the Garden of Eden. Although in other cultures it has different names, humans have yearned for this mythic place of peace and joy from which they were expelled. The founders of the first 'botanic' gardens in the sixteenth century attempted to create an Eden that contained a complete collection of all things created by God. Author Mary Sodestrom explores how these gardens have evolved over the last 400 years by guiding us through a selection of botanical gardens that she has visited.

Gardens of Empire
- Hortus Botanicus at Leiden in the Netherlands
- Jardin des plantes in Paris
- Royal Botanical Gardens at Kew near London

Gardens of the Nineteenth Century
- Singapore Botanic Gardens
- Missouri Botanical Garden in St. Louis
- New York Botanical Garden

Gardens of the Twentieth Century
- Jardin botanique de Montréal
- Strybing Arboretum and Botanical Garden in San Francisco
- University of British Columbia Botanical Garden, Vancouver

Featuring:


12 colour plates

Black & white photographs throughout

A history of each botanical garden

Getting there, entrance fees, what to look for, other nearby gardens, Web sites

Mary Soderstrom's recent books include The Words on the Wall: Robert Nelson and the Rebellion of 1837 (Oberon) and the short story collection Finding the Enemy (Oberon), finalist for the 1997 QSPELL Hugh MacLennan Prize for Fiction. Her articles have been published in Plant and Garden and the Globe and Mail. She is currently Quebec correspondent for Quill & Quire.

Publication Date: May 2001

Visit Mary Soderstrom's homepage.


ISBN:
 1-55065-151-X
Price:
 $24.95
Illustrated:
 Yes
Cover:
 Quality Paperback With French Flaps
Size:
 6x9
No. of Pages:
 240
In Print:
 Yes