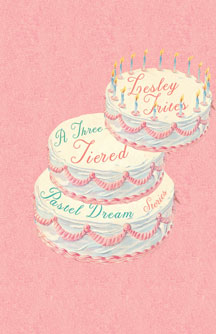 A Three-Tiered Pastel DreamLesley Trites
A career-focused woman finds her life taken off course by an unexpected pregnancy and its challenging aftermath; a troubled doctor abandons her family on her daughter's birthday, the three-tiered pastel layer cake in the passenger seat beside her; a young mother must contend with how to explain her husband's suicide to their child. In her first story collection, Lesley Trites digs bravely into the dilemmas faced by contemporary women who must be everything to everyone, as they navigate the triangle of responsibilities between motherhood, work, and love.

Written with keen insight and deep affection, Lesley Trites's A Three-Tiered Pastel Dream unearths pearls of wisdom from the secret lives of women who could easily live next door, drop off their kids at the same school, or work in the next cubicle.
Esplanade Books
2017
"These stories are captivating. Read them." - Lynne C. Martin, The Winnipeg Review


Lesley Trites is the author of a collection of poetry, echoic mimic (Snare/Invisible 2011). Her fiction has recently appeared in carte blanche, The Tupelo Quarterly, and the anthology Salut King Kong: New English Writing from Quebec, and her non-fiction has been published in The Los Angeles Review of Books, Maisonneuve, the Montreal Review of Books, and The Montreal Gazette, among others. A finalist in the 2013 Quebec Writing Competition, Lesley grew up in Fredericton, New Brunswick and now lives in Montreal.
Trade paperback
180 pp 7.5" x 5"
ISBN13: 9781550654646

CDN $19.95
Ebook
ISBN13: 9781550654714

CDN $19.95