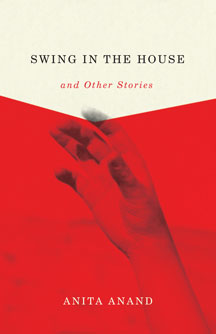 Swing in the House and Other StoriesAnita Anand
Winner, 2015 QWF Concordia University First Book Award
49th Shelf Most Anticipated 2015 Spring Fiction Selection
Nominated for the Blue Metropolis/Conseil des arts de Montréal Literary Diversity Prize for a First Publication.

Swing in the House paints an utterly contemporary portrait of Canadian families in their most private moments. Anand pulls back the curtains to reveal the unspoken complexities within the modern home, from sibling rivalries to fracturing marriages, casual racism to damaged egos, hidden homosexuality to mental illness. Each of these stories offers a deftly-constructed morality play. In the novella-length title story, a young mother timidly explores the possibilities of an affair to alleviate the suffocation of a loveless marriage, to detrimental effect. In "Indelible Markers," a girl vacationing in Greece learns that growing up with a schizophrenic father has affected her relationships with men. In "Something Steady," a lonely, mentally challenged teen vents his anger on a co-worker's boyfriend. Throughout, Anand's incisive intelligence, sharp prose, and sly wit infuse dark undercurrents into these seventeen cautionary tales.


Esplanade Books
2015
"This is a wise, assured and wonderfully intelligent collection that announces the arrival of an exciting new talent." -Dennis Bock, author of Going Home Again

"These stories have this quiet fire, these cool fire surprises, stylish moves done deftly by a writer with light touch and dark intentions." - Cary Tennis, author of Citizens of the Dream

"These stories are full of undercurrents that disturb the surface, and these disturbances, in their turn, dazzle as they reflect light." - Elise Moser, author of Lily and Taylor and Because I Have Loved and Hidden It.

"Anand's writing—natural, inquisitive and generously circumstantial—gives gravitas to our individual abnormalities. She exhumes the truth found in the liminality of life, as if saying what you experience is not the same as what I experience but we are both drowning in the same invisible panic." –Anupa Mistry, National Post

"Full of sparely drawn yet complex characters, and situations that are equal parts poignant and absurd, these stories repeatedly demonstrate a rare knack for tackling heavy subjects—race and racism, identity, infidelity, mental illness—without heavy-handedness."–Ian McGillis, Montreal Gazette

"In all of her stories, Anand shows a keen awareness and desire to begin conversations about identity politics and thinly-veiled aggressions and prejudices, especially as they relate to intimate relationships. Overall, this collection is cohesive and rhythmic, and showcases a unique, perceptive, and sensitive narrative voice." –Jess Shane, Broken Pencil

"This is an impressive first collection."–Toronto Star
Anita Anand was born in Montreal. She moved back and forth between her hometown and such places as the Bronx; Bedfordshire, England; and Richmond, B.C. In every neighbourhood where she has lived, she has been the only person her age of Indian origin. Her writing has appeared in The Globe and Mail, Frostwriting and the Louisiana Review. This is her first book
Ebook
8.5" x 5.5"
ISBN13: 9781550654073

CDN $18.00
Trade paperback
180 pp 8.5" x 5.5"
ISBN13: 9781550653984

CDN $18.00 US & International
US $18.00