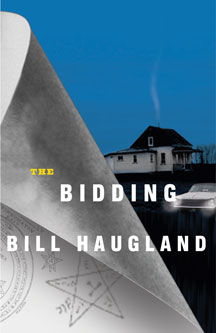 The BiddingBill Haugland
In 1972 a young girl is abducted and murdered. Montreal news reporter Ty Davis is drawn into a bizarre sequence of events when the body of the ten-year-old girl and the bodies of her kidnappers are found in a 19th century farmhouse in the Laurentian community of Saint Sauveur. Strange symbols on the floor, ancient words in a journal, and additional discoveries hint of something more than a child abduction gone wrong. Davis and his colleagues find themselves embroiled in a complex web of international conspiracy as their careers and lives are put in jeopardy.
Fiction 2011
Advance Praise for The Bidding: Haugland weaves a tale of international intrigue, even while he dishes up glimpses of a bygone era of broadcast journalism. I couldn't put it down. –Lloyd Robertson
Bill Haugland's extensive and compelling career in broadcast journalism brought him into living-rooms across Quebec.
Other books by Bill Haugland:
The Informants
Mobile 9
After it Rains

Trade paperback
250 pp 8.5" x 5.5"
ISBN13: 9781550653144

CDN $18.95 US & International
US $18.95