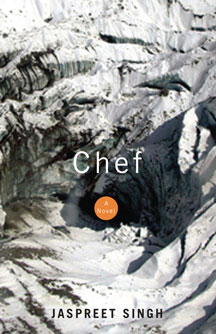 ChefJaspreet Singh
Jaspreet Singh follows his highly-acclaimed short story collection, Seventeen Tomatoes: Tales from Kashmir with an elegiac and hypnotic novel. Chef is a compelling look at the India-Pakistan conflict from atop Siachen Glacier, the coldest battlefield in the world at 20,000 feet. Chef Kirpal, seriously ill, returns to Kashmir after a gap of fourteen years to cook his last meal at the Governor's residence. He embarks on a long train and bus journey from Delhi to Kashmir during which he looks back over his days of apprenticeship and the life of ordinary soldiers on the Siachen Glacier, and occupation of Kashmir by India and Pakistan, prejudice against Muslims, and his relationship with women from both sides of the border. But his reasons for visiting Kashmir one last time extend further than the strong desire to cook a wedding meal for the General's daughter. He would like to excavate a part of his past that has kept him from moving forward.
Esplanade
Fiction 2008
"This is a book that breathes into you over time and rereading.... I hope readers appreciate how significant he is. Ellenbogen is, for me, one of the most human and humane poets I have ever read." -John Kinsella

"With Morning Gothic George Ellenbogen takes his rightful place in the forefront of living poets. He writes with a passionate compassion for others, a determination to get clearly across to us what he sees and feels. For anyone who cares for poetry, this book is essential." -X.J. Kennedy
Jaspreet Singh s stories have appeared in Walrus, Fiddlehead, World Cup Cricket Anthology, and Francis Ford Coppola s Zoetrope. Seventeen Tomatoes won the 2004 McAuslan First Book Prize and has been translated into Spanish and Punjabi. He was the 2006 07 Markin-Flanagan Writer-in-Residence at theUniversity of Calgary.
Other books by Jaspreet Singh:
Seventeen Tomatoes: Tales from Kashmir

No longer available through Vehicule Press