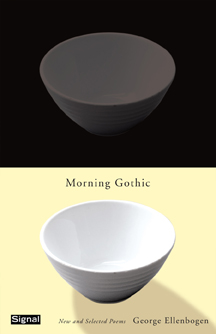 Morning Gothic: New and Selected PoemsGeorge Ellenbogen
With an introduction by John Kinsella
Over the last thirty-five years, George Ellenbogen has produced a steady flow of poetry celebrated for its light touch with difficult, often dark subjects; whether autobiographical [divorce] or political [the Holocaust]. Distinguished by their moral boldness and humane wisdom, Ellenbogen's poems never shy away from the underside of human experience. Drawn from his last four books of poetry, and with powerful new work, Morning Gothic gives us a Canadian poet quite unlike any other-one whose well-lit imagination leads us to unusual and unsettling visions.
Signal Editions
Poetry 2007
"This is a book that breathes into you over time and rereading.... I hope readers appreciate how significant he is. Ellenbogen is, for me, one of the most human and humane poets I have ever read." —John Kinsella

"With Morning Gothic George Ellenbogen takes his rightful place in the forefront of living poets. He writes with a passionate compassion for others, a determination to get clearly across to us what he sees and feels. For anyone who cares for poetry, this book is essential." —X.J. Kennedy
George Ellenbogen's books include Along the Road from Eden [1989] and The Rhino Gate Poems [1996], which has been translated into German and French. He has read on both sides of the Atlantic and is the subject of a documentary film, George Ellenbogen: Canadian Poet in America. A Montrealer by birth and upbringing, he lives in Boston.
Other books by George Ellenbogen:
A Stone in My Shoe: In Search of Neighbourhood
The Rhino Gate Poems
Along the Road from Eden
Trade paperback
160 pp 8.5" x 5.5"
ISBN13: 9781550652307

CDN $17.95 US & International
US $13.95