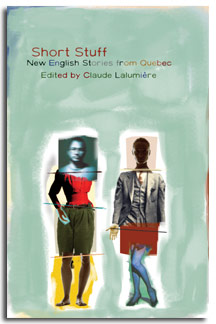 Short Stuff: New English Stories from QuebecEdited by Claude Lalumière
Short Stuff is the cream of contemporary Quebec short fiction: forty stories from the winners and finalists of the CBC-QWF Short Story Competitions from 2002 to 2005. It includes fiction from writers such as Liam Durcan, Ibi Kaslik, Elise Moser and Kaarla Sundström.

Montreal's CBC Radio One and the Quebec Writers' Federation established the CBC-QWF Short Story Competition in 1999. The winning stories are broadcast on CBC's Cinq à Six.
Fiction 2005
Trade paperback
210 pp 8.5" x 5.5"
ISBN13: 9781550652024

CDN $16.95 US & International
US $11.95