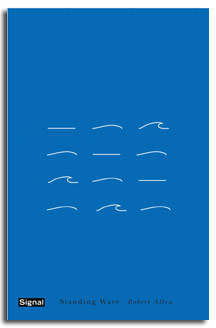 Standing WaveRobert Allen
The themes of Standing Wave will be familiar to readers of Robert Allen's acclaimed poetry and novels: the slow rusts and wild incandescences of memory; the myths and delusions sustaining our lives; the uneasy duo of body and mind. In this book, he brings two different lenses to bear on these ideas: a wry, conversational formality in "Sonnets from Jimmie Walker Swamp", and the long and complex syntaxes of the final section of his ongoing long poem, "The Encantadas". Put together, these two sequences are the black and white photographs and the colour film of the same restless dream. More than any of Robert Allen's other books, Standing Wave illustrates, through this two-fold structure, the range of language and cadences still possible in contemporary poetry.
Poetry 2005
Praise for Robert Allen's previous books:

"Lively and unquestionably gifted prose." -Globe & Mail

"[Napoleon's Retreat] is a work of sustained, unrelenting, unmercifully protracted brilliance." -Montreal Gazette

"Napoleon's Retreat [is] a work of lyrical genius." -Montreal Review of Books

"Robert Allen is a talented poet, strong in both structure and philosophy." -Poetry Canada Review

"The Hawryliw Process belongs on the same shelf as Sterne's Tristram Shandy and Flann O'Brien's At Swim-Two-Birds." -Toronto Star

"[The Hawryliw Process] deserves a wide reading." -University of Toronto Quarterly
British born and raised in England, Canada, and the United States, Robert Allen is the author of a number of books of poetry and fiction, including
Magellan's Clouds, The Indigo Hotel, Wintergarden, The Hawryliw Process, Blues & Ballads, A June Night in the Late Cenozoic,
and
Ricky Ricardo Suites.
Other books by Robert Allen:
Magellan's Clouds
Trade paperback
84 pp 8.5" x 5.5"
ISBN13: 9781550651980

CDN $16.00 US & International
US $14.95