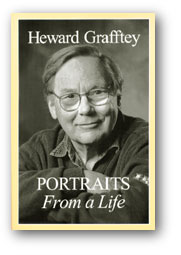 Portraits from a LifeHeward Grafftey
With the ease of a natural storyteller, Heward Grafftey writes about the people and places that have greatly influenced his life. Heward Grafftey was a federal member of Parliament for eighteen years, first elected when he was only thirty years old in 1958. For much of this time he was the only Tory MP representing a Quebec riding [Brome-Mississquoi]. He worked with Prime Minister John Diefenbaker, was named parliamentary secretary to the minister of finance in 1962 and was a delegate to the United Nations in 1958 and 1966. In 1979 he became the secretary of state for social programs and minister of science and technology in the Joe Clark administration. Today Heward Grafftey is a successful author and publisher of books on safety. In Portraits from a Life, Heward Grafftey introduces us to the starchy world of English Montreal of his childhood in the 1930s and 1940s. We meet his parents and his beloved aunt Prudence Heward [member of the Beaver Hall Group of painters]. Aside from his family, many friends and mentors influenced his life. He writes of his encounters with Wilder Penfield, Conrad Black, Pierre Elliott Trudeau, Ralph Nader, and his friendship with the novelist Hugh MacLennan. Grafftey's campaign against highway deaths led to a 1965 meeting with Ralph Nader on Laurier Lapierre's celebrated TV show, "This Hour Has Seven Days." For over thirty years, car safety and the prevention of accidents at home and in the workplace has been one of his priorities, and he has lectured extensively throughout Canada and the United States on the subject. Heward Grafftey is a passionate Canadian who advocates a new constitution to meet the needs of a unified Canada.
Biography & Autobiography 1996
Heward Grafftey was a federal member of Parliament for eighteen years, first elected in 1958 when he was twenty-nine years old. At one time he was the only Progressive Conservative member in the Commons from Quebec. He was named Parliamentary Secretary to the Minister of Finance in 1962 and Minister of Science in 1979. In 1965, in opposition, he sponsored an all-party brief on motor vehicle highway deaths and injuries. He presently heads the non-profit Safety Sense Institute of Canada.Heward Grafftey is the author of
The Senseless Sacrifice: A Black Paper on Medicine
[M&S],
Why Canadians Get the Politicians and Governments They Don't Want
[Stoddart], and
Portraits from a Life
[Véhicule]. He has also written five family reference books on safety. In 1982 he was made a Queen's Counsel.
Other books by Heward Grafftey:
Democracy Challenged: How to End One-Party Rule in Canada

Trade paperback
224 pp 9" x 6"
ISBN13: 9781550650778

CDN $18.00 US & International
US $18.00