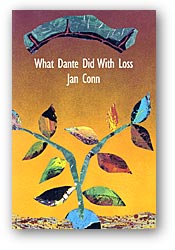 What Dante did with LossJan Conn
What Dante Did With Loss is Jan Conn's fourth book of poems. Central to this powerful new collection is a suite of poems charting the explosive emotions surrounding her mother's suicide. Other poems range from meditations on South American flora and fauna to postmodern encounters with immortality.
Signal
Poetry 1998
Jan Conn was brought up in Asbestos, Quebec. She now lives in Great Barrington, Massachusetts and works as a professor of Biomedical Sciences whose research is focused on mosquitoes, their evolution and ecology. She has published seven previous books of poetry.
Other books by Jan Conn:
South of the Tudo Bem Café
Beauties on Mad River

Trade paperback
104 pp 9" x 6"
ISBN13: 9781550650525

CDN $9.95 US & International
US $9.95