Summer 2008 Newsletter
35th Anniversary Year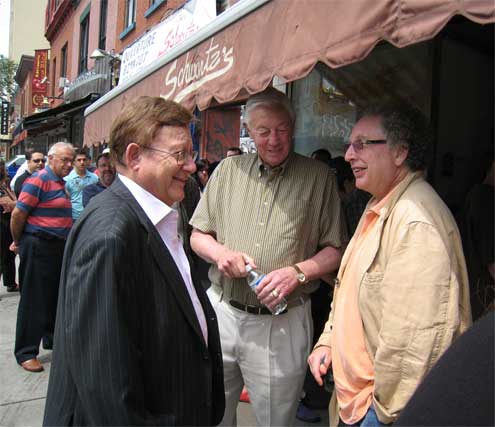 Schwartz's owner Hy Diamond (left) with hockey icon Jean Beliveau, and Bill Brownstein.


News

Maya says
It is a great pleasure to take the helm of the marketing department at Véhicule Press. My predecessor Correy Baldwin has left big shoes to fill, but has left me enthusiastic about this exciting new mandate with one of Montreal's most respected publishers.
I am happy to answer any queries you may have.[Maya Assouad]

Véhicule practices bows and curtseys
Congratulations to our authors who have been appointed to the Order of Canada by her Excellency the Right Honourable Michaëlle Jean, Governor General of Canada.The new appointees include Marcel Trudel ,C.C., G.O.Q., author of Memoirs of a Less Travelled Road: A Historians Life and Paul Bley, C.M, author of Stopping Time: Paul Bley and the Transformation of Jazz with David Lee.

Congratulations to a beloved Montrealer
Judith Mappin was also appointed to the Order of Canada for 30 years of dedication and commitment to the promotion of emerging and established writers as the owner and co-founder of the Double Hook Book Shop, a store devoted entirely to Canadian literature, which closed in 2005. We miss it!

Practicing our dance moves
Véhicule Press turns 35 in November. Keep an eye out for details of the upcoming bash.

The West beckons
This fall Terence Byrnes, author of Closer to Home: The Author and the Author Portrait, will travel to Calgary to photograph Simone Lee. Simone, of Pages Books on Kensington Bookstore, won the drawing at the Véhicule Press booth at BookExpo Canada in Toronto on June 16. The portrait contest was for librarians and booksellers attending the show.

Win! Win! Win!
We are launching Bill Brownstein's new quirky and offbeat take on Montreal this fall, Montréal 24: Twenty-four Hours in the Life of a City. We have 5 signed copies to giveaway. Win your copy by taking part in the Montreal 24 contest.
How much do you know about the city's hottest spots?

AIDS Sutra
Jaspreet Singh is one of the contributors, along with Kiran Desai, Salman Rushdie, Vikram Seth and 15 other writers to AIDS Sutra: Untold Stories from India, which will be published by Vintage (UK) and Anchor (US) this fall. Proceeds will be used to support programs for children affected by HIV in India

Tune in

Jaspreet Singh recently appeared on CBC Calgary's "The Homestretch". Jaspreet talks to Danielle Suchet about his favorite corners in Calgary. The interview is available on the Véhicule Press website at http://www.vehiculepress.com/Jaspreet-CBC.mp3

And in case you've missed it, Asa Boxer talked to Patti Schmidt recently on 'Words at Large".

In Print

Asa Boxer in Fast Forward Weekly, June 26
Reviewer Bronwyn Haslam writes of Asa Boxer's The Mechanical Bird : "... the people Boxer attempts to understand and express are creators and artisans, such as a clockmaker or a workman in his workshop ...Boxer's poetic project is layered by the fact that in creating these characters or voices, the poet, too, plays a sort of god, and moreover, in imitating their voices, the poet becomes his eponymous character, the mechanical bird."

Chris Patton in Boxcar Poetry Review, May 8
Diane Schenker writes of Ox: " Gifted with an intense physical empathic response to the natural world, Patton frames his pain deep in the life of trees, weeds, dirt, rocks. Even the few houses and streets that appear seem strangely transformed into wild places. In the hands of a lesser poet, this could easily become mere ranting. Instead, Patton's intelligence and skilled prosodic hand shape the wildness and anguish into a substantive, elegant sequence of poems. "

Patrick Warner in University of Toronto Quarterly, Winter 2008
Professor Malcom Woodland writes of There, There: "Warner's poetry has a distinctively maritime cadence and voice...these pieces are casual, conversational, and colloquial in tone, syntax, and diction... What I admire most, though, is the effortless way Warner shapes this distinctive style into rigorous, tightly controlled stanzas... It is a considerable stylistic achievement and one appropriate to the volume's persistent concern with the patterns – sometimes mythic, sometimes casual or random – that emerge unexpectedly in everyday experience."
Events

ALBERTA

Jaspreet Singh at WordFest
Jaspreet Singh will be appearing at WordFest, the Banff-Calgary Writers Festival on October 18th, reading from his novel Chef.

BRITISH COLUMBIA

Andrew Hood at Vancouver Writers Festival
Andrew Hood will be appearing at and the Vancouver International Writers Festival on October 23rd and 24th, reading from his award-winning short story collection Pardon Our Monsters.

MANITOBA

Andrew Hood at Thin Air
Andrew Hood will be appearing at Thin Air, the Winnipeg International Writers Festival on September 23rd and 24th, reading from his award-winning short story collection Pardon Our Monsters.


ONTARIO

Esplanade Authors read at Lit Live Reading Series
Lolette Kuby will be reading from her recent book Out of Cleveland in Hamilton on September 7th at 7:30 pm. Andrew Hood will also be reading from Pardon Our Monsters at the Lit Live Reading Series on October 5th at 7:30 pm.

Asa Boxer at CAA Writer's Workshop
Asa Boxer will be giving a workshop in Ottawa for the Canadian Author's Association: Using the Mask: Dramatic Techniques for the Creation and Delivery of Poems, on Saturday, October 4.
Contact Arlene Smith at somertonsmith@yahoo.com to register. Spaces are limited, so register early. Cost: $45 for members; $75 for non-members.

QUEBEC

Andrew Hood at Concordia Reading Series
Andrew Hood will be appearing at Writers Read at Concordia on the 11th of September, reading from his award-winning short story collection Pardon Our Monsters.

Asa Boxer at CAA event
Asa Boxer, winner of the CAA award of poetry, will be reading from his recent collection of poems, The Mechanical Bird, in the Westmount Library on October 23rd.


A Page From the Press
The following is a passage from Mary Soderstrom's upcoming book
The Walkable City: From Haussmann's Boulevards to Jane Jacobs' Streets and Beyond
.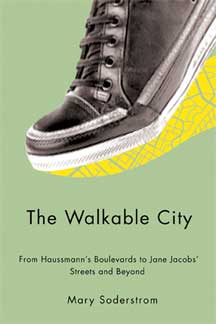 The soupy heat of New York in June weighs down the evening. It's a night to drink beer on stoops, which is just what two young men are doing, passing a bottle back and forth. They're talking quietly, making plans for where to go and what to do later on this Saturday night. Down on the sidewalk, a thin woman in Bermuda shorts and a sleeveless blouse holds a girl about three on her hip while she talks to two other women wearing summer dresses. The child's hair lies in tiny, damp curls on her forehead and she leans away from her mother, as if being in contact with another warm body is too much.
A few cars pass on the street, but don't stop. There is no space free to park. The sidewalks, however, are busy with people going somewhere in the light from the street lamps. Windows are open—this is the end of the 1960s and air conditioning is rare—the sound of the Lawrence Welk show's last waltz floats down, fighting with the Rolling Stones' "I Can't Get No Satisfaction" blasting from another apartment.
Jane Jacobs lives around the corner with her husband and three kids. Washington Square Park is a few blocks away. It appears that—possibly, just maybe, we'll have to wait and see to make sure—residents of Greenwich Village and the West Village have finally beaten back a freeway that would have sliced through the neighborhood.
This is a long way geographically from Paris and a hundred years after Baron Haussmann remade that city. There are similarities, though, similarities that Jane Jacobs may never have commented on, but which will fuel the debate about cities, particularly the walkable city, for decades to come.
Poem of the Month
The Empire's Missing Links, a collection of Walid Bitar's poetry, recently released and on its way to bookstores as you read this poem: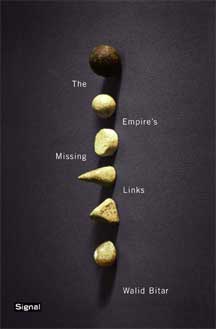 A TRICKSTER

You'll do anything to convince yourself
your mind is as large as its commotion,
blow ideas way out of proportion,
as if they were silver lining the silence

you fear with all I'd label the soul
you don't believe survived, yet insist
was a Trojan Horse born inside you, a trick,
for who would suspect so wooden a foal?

The creature, though hollow, contained nothing,
not even the slights you will never forgive;
it burned before it had a chance to live,
you swear, but tell me before you forget:

who are the enemies you still feel dying
buried right next to your wounded pride,
huddled together in exquisite pain?
At least I assume that emotion is theirs.


Contact and Ordering Information
For more information, comments, or questions, please contact Maya Assouad, Marketing Manager, at (514) 844-6073 or
marketing@vehiculepress.com
.
Distributed in Canada by Lit DistCo: (800-591-6250,
orders@litdistco.ca
) and in the US by the Independent Publishers Group (800-888-4741,
orders@ipgbook.com
)
Newsletter Subscription and Privacy Information
To subscribe to the Véhicule Press newsletter, please visit
www.vehiculepress.com/2-newsletter.php
or email
marketing@vehiculepress.com
with SUBSCRIBE in the subject line.
To unsubscribe to the Véhicule Press newsletter, please visit
www.vehiculepress.com/2-newsletter.php
or email
marketing@vehiculepress.com
with UNSUBSCRIBE in the subject line.
Véhicule Press acknowledges the support of the Canada Council for the Arts, the Book Publishing Industry Development Program (BPIDP) of the Department of Canadian Heritage, and the Société de développment des entreprises culturelles du Québec (SODEC).
Véhicule Press values your privacy and will never lend or sell your email address to a third party.