By Carmine Starnino, Books in Canada, October 2002

Fifty-two years ago, the Governor-General's Award for
Poetry was given to a collection that took as its subject a twenty-mile stretch of Nova Scotia called Chedabucto Bay. The poet, a newspaperman named Charles Bruce, spent his boyhood along the north shore of that bay, and the book, called The Mulgrave Road, conveyed the maritime details of those early experiences in clear, direct, metrical verse--verse Bruce endorsed as "simple and stirring and understandable without drifting into banality, using the concrete terms of life."

Not exactly the credo of a trend-watcher, and indeed that sort of throwback thinking, uttered during Canada's modernist heyday, conferred on Bruce's career a certain fustiness.One reviewer, unhappy with The Mulgrave Road's "local color," complained that it comprised "trite universals which meet on the fair-weather ground of inadequate and uninspired words" and another groused that the poetry "reaches into the backwaters which the busy world has bypassed."

Bruce had fans, of course. Frye praised the collection as "consistently successful" and A.J.M. Smith included his poems in his Oxford Book of Canadian Verse, as did Ralph Gustafson in his Penguin Book of Canadian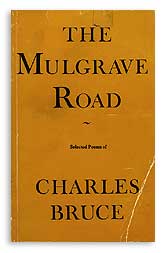 Verse. But Bruce's small-scale, regional lyricism kept him to
one side of the country's poetical developments, and the fact that he dedicated himself to this outsiderism, proudly regarding his poems as an alternative to the whole academic approach to poetry, which he called "an irritant," certainly didn't help.

After his death in 1971, Bruce drifted famelessly out of mind, and nowadays dropping his name into a literary conversation will fetch you a blank look. Andy Wainwright has made a yeoman's effort of championing him, penning a literary biography and editing, with Leslie Choyce, a volume of his selected poems (both out of print). But aside from an essay in the autumn 1979 issue of The Dalhousie Review, Bruce's poetry has attracted zero scholarship, and he now survives --barely--as a regional curiosity.

I certainly had no clue of his existence until my friend Michael Harris picked up The Mulgrave Road (for ten cents!) during a Saturday morning visit to a Westmount estate sale. He invited me over to his home that afternoon. He was excited, and this, called "Biography," is what he read to me:


To see full article, read the October 2002 issue of Books in Canada.

To read Charles Bruce's poems, click next.