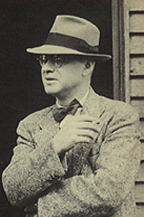 One crisp Sunday morning
, a local poet is rummaging through an estate sale in Montreal. He finds a poetry book, buried in a box. It costs him ten cents. He brings the book home and realises that he has found a forgotten Canadian treasure...
The author of the found book is Charles Bruce, a writer of six books of poetry and winner of the Governor General's Award.
Véhicule Press and Books in Canada are proud to reintroduce you to Charles Bruce.
Using the options below
, you may read a portion of the Books in Canada article or you may you go directly to the poetry of Charles Bruce.
In addition,
Harry Bruce
, Charles Bruce's son, has written a letter to Véhicule Press with regard to the life and poetry of his father.
---