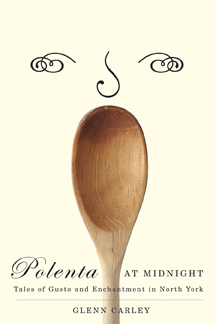 ---
Polenta at Midnight: Tales of Gusto and Enchantment at North York

Glenn Carley

---
[Memoir]

The Inglese--the English guy--of this real-life story marries into an Italian family and is gently pulled into the Court of the Patriarch, playfully named Garibaldi. He is transformed by his father-in-law and given the name Il Vagabondo. Thus begins the acute observance of an enchanted landscape in North York that could be anywhere: one that exists beyond the barriers of language, where a backyard, a hometown, a garden or a cantina become the living stage for dance, marches, and serenades of love and grief, gusto and suffering.

The book is loosely structured as an Italian opera told across a series of acts and scenes, with two intermissions and three curtain calls, in which the author and the reader are introduced to the love and passion of his adopted Italian family.

"Come with me to Garibaldi's Court and I will tell you tales of gusto and enchantment. We will sing, dance, laugh, weep and eat polenta at midnight al fresco. I promise you homemade red wine and frittata. Have some more. For me! We will work hard and then we will rest."


Glenn Carley is a social worker with the Dufferin-Peel Catholic District School Board. He lives in Bolton, Ontario, with his family. This is his first book.


Please visit Glenn Carley's page at the Humber School for Writers.




The Polenta at Midnight libretto is a playful glossary of expressions
found in Carley's book.


ISBN:
 1-55065-224-9, 978-1-55065-224-6
Price:
CDN $19.95

Illustrated:
No
Cover:
 Trade Paper
Size:
5.5 x 8.5
No. of Pages:
224
In Print:
No