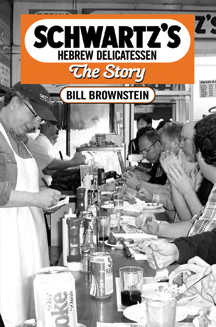 ---
Schwartz's Hebrew Delicatessen: The Story

Bill Brownstein

---
[Food history]

"When you're in Montreal, you must go to Schwartz's"--New York Times

"The best place in the Milky Way to sample smoked meat sandwiches!"--Time Magazine



"A Beef on Rye to Freeze to Death for"--Financial Times of London




Bill Brownstein tells the colourful story of Schwartz's Hebrew Delicatessen and the origins of its unique smoked meat. In a style reminiscent of Damon Runyon's descriptions of New York's flamboyant street characters in the 1920s and 1930s, Brownstein vividly portrays the succession of Schwartz's eccentric owners (starting with Reuben Schwartz in 1928), its staff (we meet broilerman The Shadow, the father of steak spice), the larger-than-life characters of the Main who called Schwartz's "home," and some of the tourists, actors, comedians, journalists, politicians, filmmakers, students, and many other customers who pass through its doors. With humour and the eye of a social historian, Brownstein documents and grapples with such issues as the smoked meat and pastrami debate, the food police, the perils of expansion, and language laws.


"Breezy, humorous prose... a taut narrative full of eye-openers and local legend... a welcome addition to Montreal lore and a good, old fashioned read." -- Montreal Gazette

"A frequently fascinating, always entertaining examination of one of the last unexplored corner of Montreal urban folklore, told with wit and exuberance, and must-read material for all Montrealers." -- Hour


Bill Brownstein is a columnist with the Montreal Gazette. He made two documentary films, Bill Lee: A Profile of a Pitcher, about former Montreal Expos pitcher Bill "Spaceman" Lee and Skating on Thin Ice, about the nomadic life of two journeymen hockey players in the NHL. He is the author of Sex Carnival, a whimsical peek into the wide world of sex, and Down the Tube, an account of the week he spent watching TV. He is also co-author and co-editor of The Great Canadian Character Anthology, and loves smoked meat.