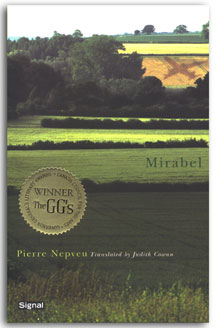 ---
Mirabel390]

Pierre Nepveu

Translated from the French by Judith Cowan

---
[Poetry]


In this powerful and original collection, Pierre Nepveu, one of Quebec's foremost poets, recreates the tragic circumstances surrounding the construction of Montreal's Mirabel airport. In an exceptional English translation that is wrenching in the shifting sadnesses of its lines, these poems are brilliantly disturbing, ambitious in their moral force, and universal in scope. Mirabel (under its original title, Lignes aériennes) won the Governor-General's Award and the International Poetry Festival's Grand Prize in 2003, and has already been hailed as a contemporary masterpiece of French-Canadian poetry. Judith Cowan's translation won the Governor General's Award for Translation in 2004.


"An epic poem that acknowledges the dispossessed, this book is a journey into sorrow and compassion, a plaint that strikes universal chords in its evocation of the disaster. This is an exceptional work, exemplary in its engagement and urgency."


--from the Governor General's Award jury


Pierre Nepveu is a Montreal critic, essayist, poet and teacher. He has received the Governor General's award three times--in 1997 for the collection of poems Romans-fleuves, in 1998 for the essay Intérieurs du Nouveau Monde, and in 2003 for Lignes Aériennes. His many other awards include the Québec-Paris Prize, the Prix Victor-Barbeau de l'Académie des lettres du Québec, and the Canada-Swiss Prize.

Pierre Nepveu has taught in the Département d'études françaises at Université de Montréal since 1978.

Judith Cowan has translated several Quebec poets, including Gérald Godin, Yves Préfontaine and Yves Boisvert. She lives in Trois-Rivières.