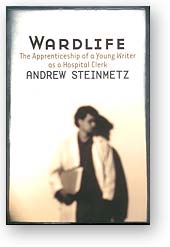 ---
Wardlife: The Apprenticeship of a Young Writer as a Hospital Clerk

Andrew Steinmetz

---
[Biography,Cultural Studies]



Short-listed for 2000 QWF (formally QSPELL) Awards.



For nine years Andrew Steinmetz worked as a ward clerk in the Intensive Care Unit and Emergency Department of a major hospital.


Wardlife is a series of riviting prose vignettes--intensely observed moments drawn from diaries kept during the nine years the author spent as a ward clerk. With character sketches, dialogues, and brief meditations on subjects ranging from the language of poetry to the language of medicine, Wardlife records the hospital experience--the pathos and pain, the humour and horror--of life on the wards.


Andrew Steinmetz conveys a profound and deeply sympathetic understanding of this unique environment that few other books have managed to do.


Steinmetz is an astute observer who doesn't miss much: the feel of instruments, the tone of a "locating girl's" voice calling code blue, the oddly triumphant grieving of a family watching and singing at a dying father's bedside, and the complications of various hospital subcultures. He knows how medicine can drain our humanity, but he eloquently seeks a balance between medicalizing the personal and personalizing the medical.