Poet and novelist Robert Allen
1946-2006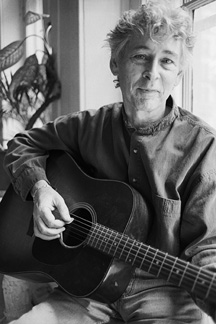 photo by Terence Byrnes
Véhicule Press mourns the loss of poet, novelist, colleague, and friend Robert Allen who died in Sherbrooke, Quebec on Friday, November 3.
As a professor in the Creative Writing department of Concordia University he had a lasting influence on hundreds students over the years--many of whom became writers. As the editor of
Matrix
magazine he opened its pages to the innovative work of a new generation of writers and illustrators. His 15 published works included poetry, short stories, and two novels.
Véhicule Press is proud to have published
Magellan's Clouds: Poems
1971-1986 (1987) and
Standing Wave
(2005), both part of its Signal Editions poetry series.
Standing Wave
reflected themes familiar to Robert Allen's poetry and novels: the slow rusts and wild incandescences of memory; the myths and delusions sustaining our lives; and the uneasy duo of body and mind. His latest book,
The Encantadas
, published this year by Conundrum Press, collects together in one volume his important long poem of the same name.
Robert Allen was born in England in 1946 and came to Canada as a ten-year-old. He attended the University of Toronto and Cornell University and taught at Kenyon College (Ohio), Champlain College (Lennoxville, QC), and Concordia University since 1982.
Information: 514.844.6073
Trails, a poem for Rob Allen by David Solway