What does it mean to be a Jewish woman in the last decade of the twentieth century?
The response of seven Jewish feminists from Israel, United States, and Canada, results in a provocative exchange of ideas, attitudes, and opinions.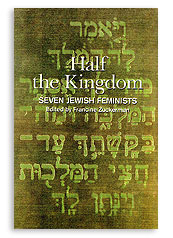 Featured writers:
Ester Broner
Alice Shalvi
Michele Landsberg
Elyse Goldstein
Norma Joseph
Naomi Goldenberg
Shulamit Aloni
"We have several options when we are faced with the patriarchal nature of Judaism. We can give it up and say, 'You know, the religion is simply too patriarchal. I can't deal with it, I'm leaving.' And some women have taken that option. It is a sad option because it makes our community lose some of its best talents and its strength. The alternative is to say, 'Isn't there something already within our tradition that I can rediscover, that I can pick up as my own?' I think that is what I do as a Jewish feminist."
-- Elyse Goldstein
---
Preface

As a feminist Jew I have experienced many contradictions: the pain of alienation, the pleasure of community, the joy of the Jewish spirit. We have all chosen diverse paths. Mine moves away from any element of tradition to find a new creation. This new conception upholds the Jewish spirit, yet diverts radically from religion as we know it. In my need to find new ways, this process has sent me on a journey of which Half the Kingdom is only part.
I grew up in Regina, Saskatchewan, then a small Canadian prairie town, where there was only an Orthodox synagogue. I attended with my family and sat separately from my father, separate from the mean as tradition dictates. From a child's egocentric point of view, it did not feel right--the men had access to everything. Early on I was left with a sense of injustice.
When I graduated from film school I thought that I was ready to make a film. I soon realized that I had skills to learn and a craft to perfect. After several years of working on other people's films it became apparent that it was important for me to embark on a film project that would attempt to explain what it meant to be a Jewish woman in the last decade of the twentieth century. Half the Kingdom was to be the most difficult undertaking I had ever attempted.
So I began...not quite knowing where to begin. What did I want to say? How was it to be financed? What began as a personal journey, based on years of my own questions, became a half-million dollar National Film Board co-production with a crew of over twenty people that took six years to complete. My journey became the communal journeys of many women--the writer--the whole team. The process had a profound effect on many of us.
For months I Travelled across Canada, the United States, and Israel. I had many questions. Hours were spent in homes, offices, and cafés with women who were also searching.
Each one of the women in the film affected my life in a different way. Naomi Goldenberg was with me from the beginning--searching, probing, and guiding. She too was on a journey--looking for her place as Jew. Elyse Goldstein made a major impact on me and the Canadian Jewish community. Alice Shalvi linked me to a network; my lifeline to the Israeli women's community. She gave me strength in her strength and energy. Michele Landsberg was an inspiration to me even before I met her. She as always on the cutting edge, dealing with what I thought were the key feminist issues. Shulamit Aloni was at the forefront of the Israeli political scene. Her determination, her unrelenting commitment, and her incredible vigour greatly stimulated my work. When I first met Norma Joseph I knew she had a place in this film. Her sincerity and determination gave me great courage. She became my guiding light and I depended on her throughout the process. I called Esther and I listened to her. It did not take me long to realize that he woman whose writings I had come to admire, would be as provocative in the film as she was in her books. Many women had an impact on the film who could not appear in it. Women like Marcia Falk, Judith Plaskow, Paula Hyman, Blu Greenberg, Carol Rose, Savian Teubel, Zippoah Greenfield, Frida Forman, Susan Weidman Schneider, Rachel Adler, and Jane Litman. I thank them for their silent but significant contribution. [...]
When Simon Dardick, publisher at Véhicule Press, approached me with the idea of a book based on the film, I realized it was an opportunity to extend our audience. This book is based on interviews from the film and therefore will reflect a speaking, rather than written quality. Editing the transcripts, I again became excited about the issues that were raised by the seven women participants in over fifteen hours of film footage. There are many more books to be written, and films to be made, on the relationship of women with Judaism. I hope that Half the Kingdom, the film and the book, will inspire more thought and inquiry, more rebellion and reform.
--Francine Zuckerman