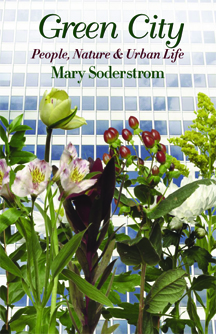 ---
Green City: People, Nature, and Urban Places

Mary Soderstrom

---
[Gardening / Travel]

Green City: People, Nature, and Urban Places looks at eleven cities the world over to see how people and nature have interacted over the course of history, and how people attempt to bring nature into cities. In each of these locations, Soderstrom examines how people have tried to make a connection with nature—how well they've done is both a lesson in hope and, often, a warning.

Featuring chapters on Babylon, Provins (France), London and Bloomsbury, Hamilton, Chicago, Irvine, Singapore, Tanga (Tanzania), Kochi (India), Shanghai, and São Paulo, as well as recommendations on what must be done so that everyone has a bit of green to call their own. Also includes photographs and extensive notes.


Mary Soderstrom's articles have been published in the New York Times, San Francisco Chronicle, Plant and Garden and the Globe and Mail, and her short story collection Finding the Enemy was shortlisted for the 1997 QSPELL Hugh MacLennan Prize for Fiction. She lives in Montreal and is Quill & Quire's Quebec correspondent.



ISBN:
 1-55065-207-9
Price:
CDN $22.95
US $17.95
Illustrated:
Yes
Cover:
 Trade Paper
Size:
5.5 x 8.5
No. of Pages:
240
In Print:
Yes