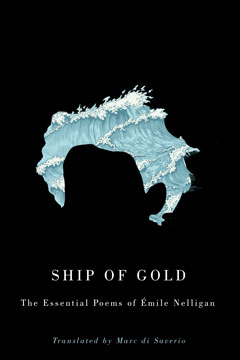 Ship of Gold: The Essential Poems of Émile NelliganÉmile Nelligan
Translated by Marc DiSaverio
A legend of 19th century French Canadian poetry, Émile Nelligan was only 16 when he fell under the influence of Baudelaire and Rimbaud and began writing taut, confidently surrealistic poems, shot through self-lacerating melancholy. Three years later, when a mental collapse led to his life-long institutionalization in 1899, he had already produced an impressive body of work. Translating Nelligan's "essential" poems, along with a sharp introduction contextualizing his legacy as one of the "first poets to write openly about suicide, neurosis, and psychological breakdown," Marc di Saverio has given us a rivetingly fresh version of Nelligan for a new generation.
Signal Editions
2017
"Marc di Saverio offers a compelling and moving perspective on the presciently confessional nature of Nelligan's poetry, and on his own personal attachment to its vitality and vulnerability." - Kenneth W. Meadwell, Canadian Literature

Praise for Marc di Saverio:

Di Saverio is a poet whose imagination belongs in the company of Blake, Pound, Layton, Rimbaud, Nelligan, among others. —Darren Bifford, Arc Magazine

Hamilton's Marc di Saverio offers one of the strongest debuts of late in Sanitorium Songs. Primarily collecting sonnets, villanelles, haiku and translations, di Saverio shows a stunning command of these forms and a talent for startling imagery. His translations (of Rimbaud, Baudelaire and others) are masterful, while his original poems show a clear symbolist influence and a sharp, severe musicality. —Jonathan Ball, Winnipeg Free Press
Émile Nelligan was born in Montreal on Christmas eve, 1879. His first poem , Ręve fantastique was published in 1896 and for the next three years his poems appeared in local papers and journals. Following a series of public readings in 1899 he suffered a mental breakdown from which he never recovered. He was confined to the Saint-Benoît Asylum where he remained for the next 25 years and then was transferred to the Saint-Jean-de-Dieu Hospital. Remarkably, all of Nelligans 107 poems were written when he was between the ages of 16 and 19. A pioneer of French-Canadian literature, Émile Nelligan died in 1941.

Marc di Saverio's is the author of a previous collection of poems, Sanitorium Songs (2010). His poems and translations have appeared in CNQ, Maisonneuve, Hazlitt, and Partisan. In 2016, he was awarded the City of Hamilton Arts Award For Best Emerging Writer. He lives in Hamilton, Ontario.
Trade paperback
140 pp 8.5" x 5.5"
ISBN13: 9781550654837

CDN $19.95 US & International
US $15.95

Ebook
ISBN13: 9781550654912

CDN $19.95