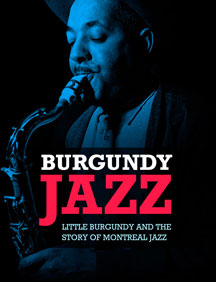 Burgundy Jazz: Little Burgundy and the Story of Montreal JazzNancy Marrelli
This book is a celebration of  the Little Burgundy district's contribution to the story of jazz in Montreal. From the 1920s until the early 1950s Montreal had an international reputation as a glamorous wide open city with a lively nightlife and great jazz. The swinging clubs of Little Burgundy were an important part of that reputation. Explore the textures of Montreal's jazz era with over 125 rare jazz artifacts, including swizzle sticks and menus from legendary Montreal nightclubs, flapper dresses, porter uniforms, old LP vinyl records, cocktail shakers, and sheet music. Each object tells a fascinating story! Preface by Stanley Péan.  

Buy the E-book in Kobo, Kindle, and Nook
Click here for the iBook version.


Music 2015
Nancy Marrelli is Archivist Emerita at Concordia University. She is the author of Stepping Out: The Golden Era of Montreal Nightclubs 1925-1955, Montréal Photo Album: Photographs from Montréal Archives / Montréal: Un album de photos; Photographies provenant de dépôts d'archives montréalais, and, as editor (with Simon Dardick), The Scots of Montreal: A Pictorial Album.