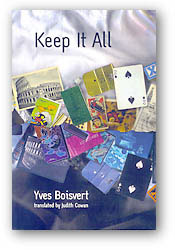 Keep it AllYves Boisvert
Translated by Judith Cowan
Yves Boisvert's poetry is incantatory, energetic, ribald, plainspoken-the work of a doubting, hopeful, angry, and joyous man thoroughly engaged in life. Includes French and English text.
Signal
Poetry 1998
Born in L'Avenir, a small town southwest of Drummondville, Quebec, Boisvert now lives in Trois-Rivières where he is somewhat of a cult figure. An award-winning poet, he is the author of more than twenty books.
Trade paperback
104 pp 9" x 6"
ISBN13: 9781550651058

CDN $12.00 US & International
US $12.00