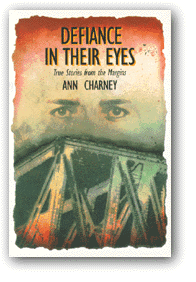 Defiance in Their Eyes: True Stories from the MarginsAnn Charney
These six stories are about real people—Pierre Vallières, Paul Rose, the Mohawks, Paolo Violi, Claude Jutra, and Jean Castonguay.
Each in turn exhibits an acute discomfort with the world as it is, a fierce resistance against the passivity and apathy that drags at life's coat-tails, and an inclination—nourished by personal belief—to act in ways that threaten the orderly peaceable flow of what passes for normal life.
For different reasons, these individuals who have reached that point of crisis where lives are lived in extremis: a time when perspectives narrow and existence is imperiled by shifting equations of power. Trapped between rage and despair, violence inevitably becomes the only possible resolution.
Biography & Autobiography 1998
Ann Charney has received awards for her fiction and non-fiction, including two National Magazine Awards, the Chatelaine Fiction Prize, and the Canadian Authors' Association Prize. Defiance in Their Eyes: True Stories from the Margins [Véhicule] was a finalist for the 1996 QSPELL Non-fiction Prize. Rousseau's Garden has been translated into French and German and is also being published in the U.S. fall, 2001. Her novel Dobryd was published in France, Germany, Italy, and the U.S.
Other books by Ann Charney:
Rousseau's Garden

Trade paperback
160 pp 9" x 6"
ISBN13: 9781550650686

CDN $15.95 US & International
US $15.95