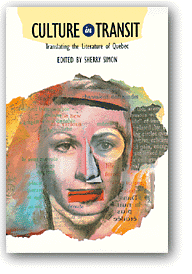 Culture in Transit: Translating the Literature of QuebecEdited by Sherry Simon
The essays in Culture in Transit are by many of English Canada's most prominent translators, a group which has made whole libraries of Quebec literature available to English-speaking readers. Philip Stratford, Kathy Mezei, Ray Ellenwood, Betty Bednarski, William Findlay, Linda Gaboriau, Jane Brierley, Susanne de Lotbinière-Harwood, Luise von Flotow, Barbara Godard, David Homel, Wayne Grady, and Sheila Fischman. The history of Canada has provided an exceptional platform for the development of literary translation. Culture in Transit provides a lively and thought-provoking insider's look at this essential activity.
1998
Sherry Simon teaches in the Département d'études françaises at Concordia University and is active in the Literary Translators Association of Canada. She is co-editor, with David Homel, of Mapping Literature: The Art and Politics of Translation [Véhicule 1988].
Out of print
Trade paperback
280 pp 8.5" x 5.5"
ISBN13: 9781550655438

CDN $21.95 US & International
US $17.95

Ebook
ISBN13: 9781550655490
CDN $21.95