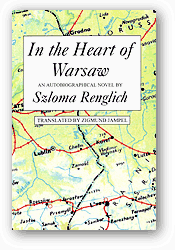 In the Heart of WarsawSlozma Renglich
Translated by Zigmund Jampel
Awards: Winner, 1994 Toronto Jewish Fiction Prize
In 1928 a young man has just discovered the devastating truths of his mother's disappearance four years earlier. So begins a dramatic and emotional tale of one man's life—trade union strikes in Poland before the war; spring Warsaw nights where he finds love; the arduous trek in the winter of 1942 through Russia in search of his father who had disappeared in the First World War, and their bittersweet reunion. In the Heart of Warsaw is the long-awaited sequel to When Paupers Dance, Renglich's poignant coming of age story set in the ghettos of Lublin and Warsaw in Poland before World War II. When Paupers Dance was the 1989 winner of the Toronto Jewish Cultural Council's Fiction Prize.
Biography & Autobiography 1998
Szloma Renglich is a survicor of the Holocaust. He escaped to Russia in 1939, and after the war returned to Poland. He lived there with hiswife and five children until 1958. In that year, as he was preparing to emigrate to Israel, Renglich discovered that his sister has also survived the war and was living in Canada. He immediatelychanged his plans and was soon reunited with her in Montreal , where he resettled with his family. Szloma Renglich has eraned his living as a presser, tailor, and fur finisher.
Other books by Slozma Renglich:
When Paupers Dance
Trade paperback
212 pp 9" x 6"
ISBN13: 9781550650372

CDN $16.95 US & International
US $16.95