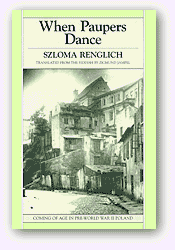 When Paupers DanceSlozma Renglich
Translated by Zigmund Jampel
Awards: Winner, 1989 Toronto Jewish Fiction Prize
When Paupers Dance is set in the poorest Jewish ghettos of Lublin and Warsaw from 1912 to 1928. It is the story of lives scarred by desperate poverty but which are abundantly rich in the wisdom of survival, as well as in love, courage and humour.
Biography & Autobiography 1998
Szloma Renglich is a survicor of the Holocaust. He escaped to Russia in 1939, and after the war returned to Poland. He lived there with hiswife and five children until 1958. In that year, as he was preparing to emigrate to Israel, Renglich discovered that his sister has also survived the war and was living in Canada. He immediatelychanged his plans and was soon reunited with her in Montreal , where he resettled with his family. Szloma Renglich has eraned his living as a presser, tailor, and fur finisher.
Other books by Slozma Renglich:
In the Heart of Warsaw
Trade paperback
9" x 6"
ISBN13: 9780919890794

CDN $12.95 US & International
US $12.95