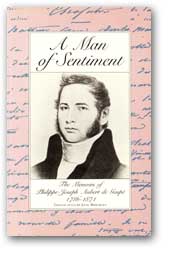 A Man of Sentiment: The Memoirs of Philippe-Joseph Aubert de Gaspé 1786-1871Phillipe-Joseph Aubert de Gaspé
Translated by Jane Brierley
Described by poet James Reaney as a "folkloric father figure" of Canadian literature, de Gaspé became well-known to his contemporaries only at the end of his life, after the publication of his historical novel, Les Anciens Canadiens [1863]. Delighted readers pressed him for more, and his memoirs appeared in 1866. In his work, de Gaspé has preserved the essence of the eighteenth-century man. Wit and wisdom combine with sentiment to give the reader a glimpse of the Quebec of his youth, as well as the foibles of family, friends, and historical figures.
Biography & Autobiography 1987
Jane Brierley is a Montreal literary translator, writer, editor, and former president of the Literary Translators Association of Canada. Her translations of science fiction stories have appeared in a number of Tesseracts anthologies, and she has translated three of Élisabeth Vonarburgs science fiction novels: The Silent City, The Maërlande Chronicles, and Reluctant Voyagers. In 1990 she won the Governor Generals Award for best English translation.
Other books by Phillipe-Joseph Aubert de Gaspé:
Yellow-Wolf & Other Tales of the Saint Lawrence
Canadians of Old
Trade paperback
255 pp 9" x 6"
ISBN13: 9780919890732

CDN $18.00 US & International
US $18.00