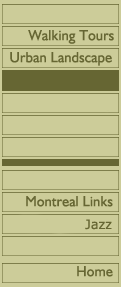 Artie Gold
1947–2007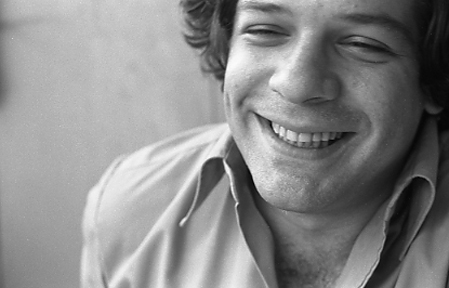 Véhicule Press mourns the loss of poet, novelist, colleague, and friend Robert Allen who died in Sherbrooke, Quebec on Friday, November In the 70s, Artie was an incandescent poet who wrote some of the freshest, most innovative poetry to come out of Montreal in a long time. His writing laid the foundation for future poets. He was funny; he was difficult. His work was brilliant—his talent great, but ultimately it was trumped by his health.

Over the years, Artie's friend—artist and photographer Christian Knudsen—took photos of Artie and designed some of his books.

"I have selected six photos of Artie as a small tribute. Personally I was very fond of the way he laughed. It was unique and despite everything he laughed often. He always had a funny story. I have selected images of Artie smiling or laughing ... the way I would like to remember him. The best times were in the 70s and 80s. These photos are from then."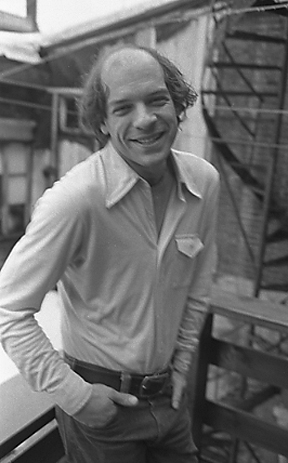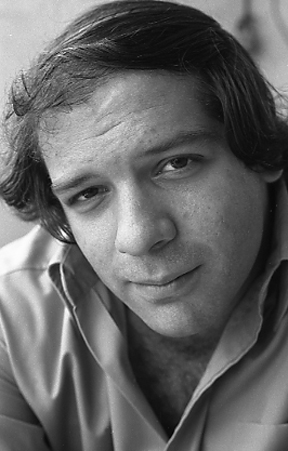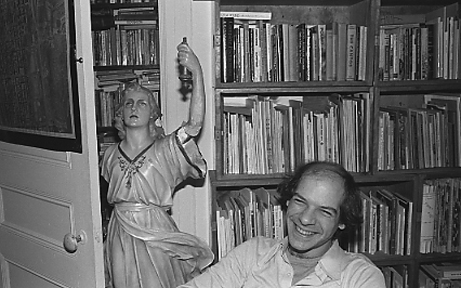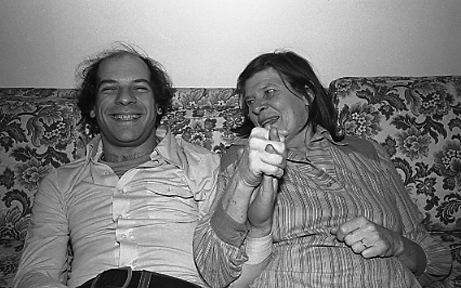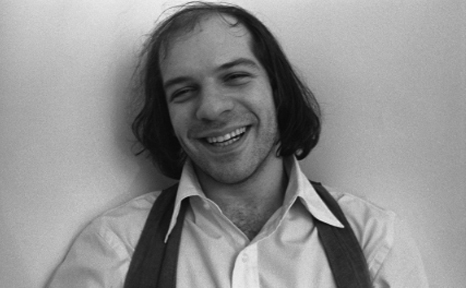 Christian Knudsen's photographs and paintings have been exhibited across Canada and abroad.
He teaches photography at Concordia University.

Untitled (from before ROMANTIC WORDS)

I have no astrologer–
and don't believe in falling in love
on any particular August day you could name

I have knapsacks full of knick-knacks
that spread beneath a tree
would suffocate a hermit

and a perpetual cough
that when I've had enough of–
I'll die from

I came to this city
naked and from a small town
and have rearranged some of its objects

I will hitch-hike out of here one day
with my hair in my eyes and a good breeze blowing
and cause a little confusion I'm sure–

though no more than a hair
discovered in a gravy


Some of Artie's Books that We Have on Our Shelf


cityflowers
Introduction by George Bowering
Published by Delta Can, 1974
Designed by Glen Siebrasse
Publisher's logo designed by Leopold Plotek
Cover photo by Christian Knudsen
Printed by "The Presses at Véhicule"

"So in the years 1967–1971 I encountered lots of young Montrealers who wanted to be poets, but only two who wanted to step fully into the world, the world, of poetry. These were Dwight Gardiner & Artie Gold. The only two I knew with holes in the knees of their jeans & great big libraries at home." –From George Bowering's introduction

even yr photograph looks afraid of me
Published by Talonbooks, 1975
Designed by Dwight Gardiner
Cover design by Gary Lee Nova

some of the cat poems
Published by CrossCountry Press, 1978
Drawings by Artie Gold
Frontispiece drawing by Allan Bealy
Printed by Véhicule Press

before ROMANTIC WORDS
Published by Véhicule Press, 1979
Cover art and design by Chris Knudsen
Photograph of the author by Chris Knudsen
Printed by Véhicule Press

The Beautiful Chemical Waltz
Published by The Muses' Company, 1992
Introduction by George Bowering
Edited by Ken Norris
Cover art and design by Christian Knudsen
Full List of Books By Artie

4 Montreal Poets (1973, Fiddlehead)
cityflowers (1974, Delta Can)
even yr photograph looks afraid of me (1975, Talonbooks)
Mixed Doubles, with Geoff Young (1975, The Figures)
Jockeypoems (1977, The Word)
some of the cat poems (1978, CrossCountry Press)
before ROMANTIC WORDS (1979, Véhicule Press)
HOWL TOO, EH? (1991, Nuage Editions)
The Beautiful Chemical Waltz (1992, The Muses' Company)
The Hotel Victoria Poems (2003, above/ground poems)


More on Artie

Remembering Artie Gold by Stephen Morrissey
www.coraclepress.com/chapbooks/morrissey/remembering-artie-gold.html

Photo of Artie Gold, Endre Farkas, and Stephen Morrissey by Claudia Lapp (April 2004)
http://poets.ca/linktext/newsletter/2007-04-01/Artie%20Obituary%20april.pdf