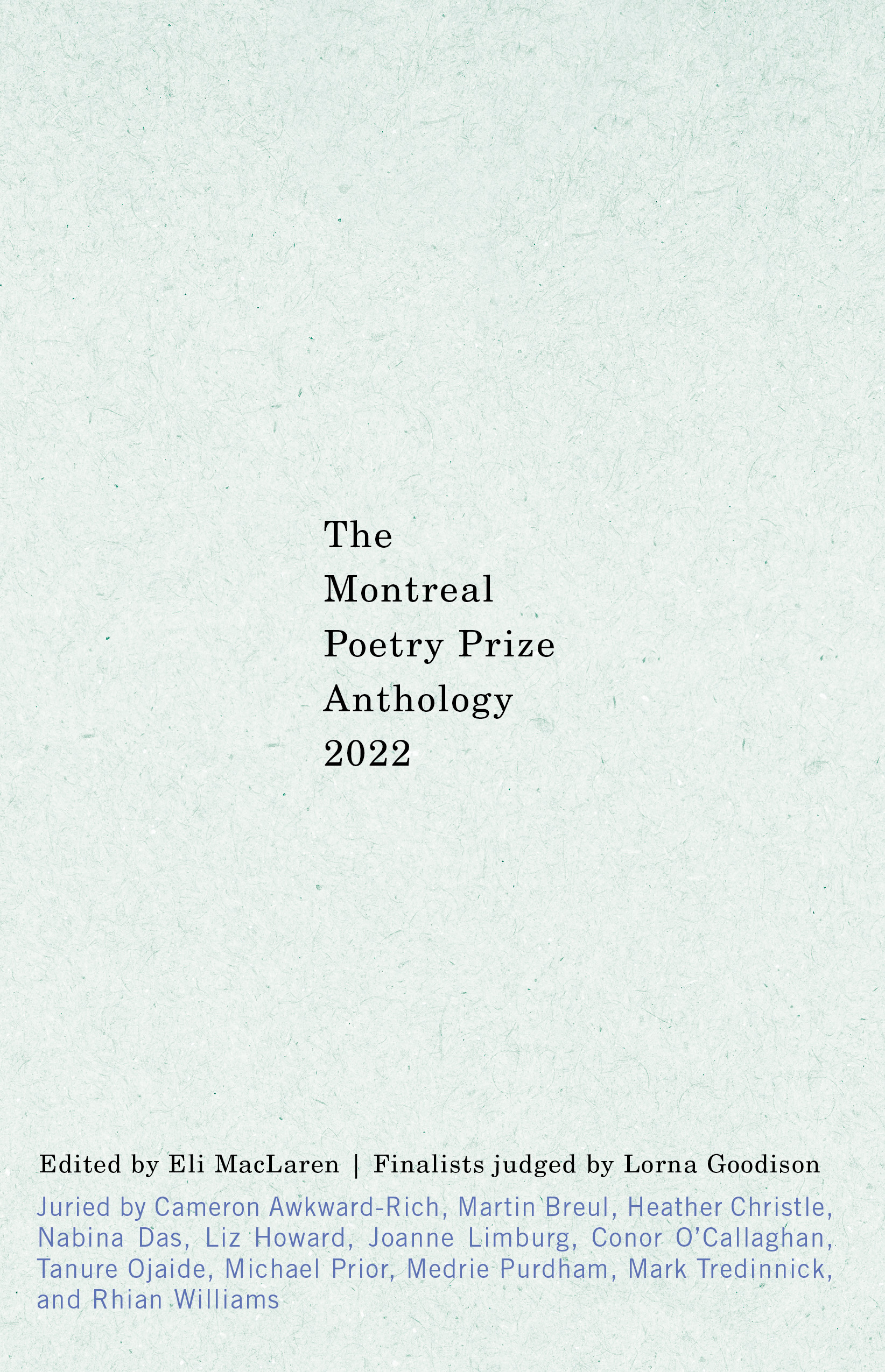 The Montreal Poetry Prize Anthology 2022 Edited by Eli MacLaren
Entries juried by Cameron Awkward-Rich, Martin Breul, Heather Christle, Nabina Das, Liz Howard, Joanne Limburg, Conor O'Callaghan, Tanure Ojaide, Michael Prior, Medrie Purdham, Mark Tredinnick, and Rhian Williams
Finalists judged by Lorna Goodison
Founded in 2010, the Montreal International Poetry Prize has established itself as a major event in contemporary poetry, both in Canada and around the world. The 2022 anthology continues the work of its predecessors, building the community of contemporary poetry on the twin principles of aesthetics and accessibility. Under this banner – poetry is for everyone – these poems speak of historic desolation and everyday bravery. Their images grip and hold. Here common experience crystallizes into stanzaic form, lending dignity to life in a ravaged world; here poetry melts into a rising, increasingly acidic ocean of prose that weeps for a prior earth.
From thousands of entries, these sixty poems were chosen for the virtue of their speaking to the reader, artfully and clearly. Lorna Goodison, winner of the Queen's Gold Medal for Poetry, then judged the finalists, selecting the one poem – included here – to take the $20,000 prize. From Canada, Australia, the Caribbean, India, Ireland, New Zealand, Romania, Tunisia, the United Kingdom, the United States, and elsewhere, these lyrics voice a reality that you will recognize as strangely yours.
Véhicule Press
Poetry 2023
Eli MacLaren is an Assistant Professor of English at McGill University in Montreal. His areas of research and teaching include Canadian poetry and fiction; First Nations writers; bibliography and the history of the book.
Trade paperback
116 pp 8.5" x 5.5"
ISBN13: 9781550656244

CDN $18.95