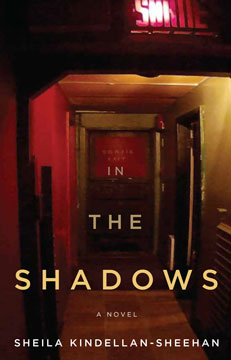 In the ShadowsSheila Kindellan-Sheehan
A new high-octane detective Tony Damiano thriller.

On a warm summer evening in June, cast members of the Thirties Show at Café Cleopatra make a gruesome discovery. Discarded like trash, the body of a young man lies crumpled on the roof of the legendary club situated in the former red light district of the city. A few hours later, in another part of the city, a man is gunned down in cold blood. What the victims have in common is a link to the Crémazie Division of Major Crimes. New acting chief Toni Damiano is devastated to learn that her partner may have intentionally corrupted evidence in the first-degree murder case at the Café. The chief sets up an operation that will either clear her partner or give her reason to arrest him. But she also fractures the trust and loyalty of a nine-year partnership. There is no pardon for betrayal, his or hers.

Fans of Kindellan-Sheehan's previous thrillers—The Red Floor, The Courier Wore Shorts, and Where Bodies Fall, will not be disappointed as we follow and empathize with her ongoing cast of complex and compelling characters.
Véhicule Press
2017
"Kindellan-Sheehan returns with another fast-paced, don't-think-you're-going-to-put-it-down-just-yet mystery. The quick tempo of the narrative is rivalled only by the author's ability to both celebrate and condemn her characters' flaws. You will be riveted by the ending!" --Brenda O'Farrell, Montreal Gazette


Praise for Where Bodies Fall:

The third Toni Damiano novel from Kindellan-Sheehan takes the central character a bit further into her own past and not-too-happy present. It also presents a nice puzzle plot with clues, herrings and settings so beloved by crime readers. - Margaret Cannon, The Globe and Mail Praise for The Red Floor:

Mystery buffs will enjoy twists, turns, and characters they will learn to love—then despise with equal abandon. This is her best yet." – Scott Taylor, The Ottawa Sun

This well-crafted puzzle is filled with the kind of plot twists readers love. - Margaret Cannon, The Globe and Mail
Ebook
ISBN13: 9781550654899

CDN $19.95
Trade paperback
288 pp 8.5" x 5.5"
ISBN13: 9781550654813

CDN $19.95 US & International
US $15.95