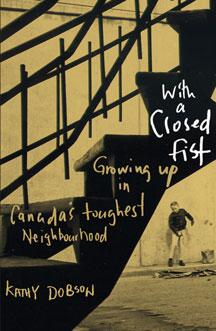 With a Closed Fist: Growing Up in Canada's Toughest NighbourhoodKathy Dobson
In the Point St. Charles of the author's childhood people move for one of two reasons: their apartment is on fire, or the rent is due. Starting in 1968, eight-year-old Kathy Dobson shares her early years growing up in Point St. Charles, an industrial slum in Montreal [now in the process of gentrification]. She offers a glimpse into the culture of extreme poverty, giving an insider's view into a neighbourhood then described as the "toughest in Canada."

When student social workers and medical students from McGill University invade the Point, Kathy and her five sisters witness their mother transform from a defeated welfare recipient to an angry and confrontational community organizer who joins in the fight against a city that has turned a blind eye on some of its most vulnerable citizens. When her mother wins the right for Kathy and her two older sisters to attend schools in one of Montreal's richest neighbourhoods,Kathy is thrown into a foreign world with a completely different set of rules, leading to disastrous results.
Véhicule Press
Biography & Autobiography 2011
"Dobson has enormous talent, and we all must be thankful that she did beat the odds and find her way through the maze of deprivation and violence to speak her truths in such a creative and telling book." –Pat Capponi, Globe and Mail
"It reads like fiction… younger Kathy's voice is strikingly believable: candid, scornful, funny"
Anna Leventhal, Montreal Review of Books
"Kathy Dobson vividly gives us a surprisingly clear glimpse through a child's eyes of what it is like to live in poverty. Her language rings true as it portrays lives of people struggling every day and night with the physical, economic, emotional and political assaults of poverty and its constant humiliations. This is a rare insider expose."- Linda Savory Gordon, Assoc. Professor, Dept. of Community Development and Social Work, Algoma University
"This is as authentic a description, language and all, of life in the Point during the 60s and 70s as it is possible to get. Poverty, hunger, love, abuse, ingenuity, survival, intelligence, language wars— they are all there; fierce optimism and laugh-out-loud humour carry the story along. That is the way it was. I know , I was there."
- Nicolas Steinmetz, MD
Kathy Dobson
has a B.A. from the University of Waterloo and two certificates in social work. A journalist, her work has appeared in the Globe and Mail, National Post, Ottawa Citizen, Montreal Gazette, and more. She has produced several short documentaries for CBC Radio, including one with hockey legend Bobby Orr. She lives in Waterloo, Ontario.
Other books by Kathy Dobson:
Punching and Kicking: Leaving Canada's Toughest Neighbourhood
Kathy Dobson Bundle

Ebook
ISBN13: 9781550653441

CDN $10.95
Trade paperback
224 pp 8.5" x 5.5"
ISBN13: 9781550653236

CDN $19.95 US & International
US $19.95