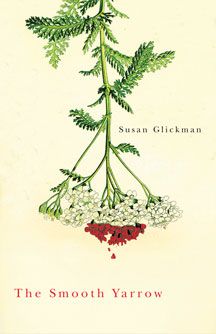 The Smooth YarrowSusan Glickman
The Smooth Yarrow, Susan Glickman's sixth collection of poetry, reveals her once again as a truth-teller of the first order. Whether it's a brilliantly sustained elegy to her late father or a gripping and often disquieting sequence on the art of gardening, Glickman's new poems are marked by the abiding virtues of her celebrated career: effortless musicality, sparkling mischief, uncompromising insight. Glickman has long been one of Canada's best poets and The Smooth Yarrow shows her working at the height of her powers.
Signal Editions
2012
"I fall into Susan Glickman's books as easily as into conversation with a dear old friend. Her voice just sounds so natural to me and I am endlessly curious to see what she wants to talk about next. You would be hard pressed to find a more natural voice in Canadian poetry and a voice full of such casual authority." --Michael Dennis
Susan Glickman
has won both the
Gabrielle Roy Prize
and the
Raymond Klibansky Prize
for her work of literary criticism
The Picturesque & the Sublime: A Poetics of the Canadian Landscape
. Her first novel,
The Violin Lover
[Goose Lane, 2006] won the
Canadian Jewish Book Award
for fiction. She teaches creative writing and is a freelance editor.She lives in Toronto, Ontario.
Other books by Susan Glickman:
What We Carry
Running in Prospect Cemetary: New and Selected Poems
Hide & Seek
Henry Moore's Sheep

Trade paperback
78 pp 8.5" x 5.5"
ISBN13: 9781550653304

CDN $18.00 US & International
US $18.00