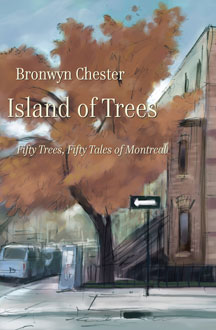 Island of Trees: 50 Trees, 50 Tales of MontrealBronwyn Chester
Illustrated by Jean-Luc Trudel
By following the trail of 50 trees, Bronwyn Chester presents a new perspective on the island of Montreal and offers a sense of belonging to an ancient forest, in its modern form. She goes beyond the traits defining each tree and interprets the tree's story. Each story is complemented with an illustration by Jean-Luc Trudel of the tree being discussed. The Island of Montreal has its own unique ecosystem. Insulated all around by the St. Lawrence River and the Rivière des Prairies, the island is slightly warmer than the surrounding territory, allowing species such as the giant cottonwood poplars to thrive all along the shoreline, and exotic species, such as the black walnut, tulip tree and dawn redwood to compliment the wide variety of native trees.

Bronwyn Chester wrote the weekly column Island of Trees for the Montreal Gazette and this book is an expansion of those columns. Grouped by territory, the trees selected will provide Montrealers and visitors the opportunity to not only better know and appreciate Montreal's trees, but will also lead them to little known places and histories of their island. These are stories that anchor us in time and space. Old trees connect us to the past as witnesses of bygone eras.
2014
Bronwyn Chester wrote a weekly column on trees for the Montreal Gazette. After writing numerous articles related to trees for the McGill Reporter, where she worked as associate editor, she created the first campus tree walk from which evolved her first tree publication, A Leafy Legacy:The Trees of McGill University [McGill-Queens University Press, 2009]. She gave numerous tree walks in Montreal parks and neighbourhoods. Bronwyn Chester died in Montreal in 2012.

Trade paperback
50 BW illustrations
160 pp 8.5" x 5.5"
ISBN13: 9781550653298

CDN $18.00 US & International
US $18.00