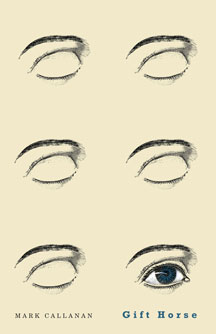 Gift HorseMark Callanan
Gift Horse, Mark Callanan's second full-length collection of poetry, was largely written following a near-fatal medical emergency in 2007. The poems offer up the story of a young man whose gratitude at being alive is undercut by Lazarus-like confusion and ambivalence. Brandishing a newly acute sense of mortality, Callanan emerges as an Atlantic flâneur stalked by terrifying sea legends, death-steeped domesticity [where even supermarket lobsters "weigh in against oblivion"] and the extinct Newfoundland Wolf. Understated, sinister and unsettling, Gift Horse is a work of considerable craft and vision.
Signal Editions
Poetry 2011
Praise for Mark Callanan:"Breathtaking, such mastery in a poet so young… it seems to me he is a diviner who has mastered metaphor and much else besides." —Fiddlehead

"Mark Callanan's voice is distinctive and confident, funny, grave, occasionally visionary, and his technical gifts are multifold." —Books in Canada

"Callanan has talent to burn, whether producing his seascapes or nature studies or human-subject poems. His eye is exact, his discipline imagist." —George Elliott Clarke
Mark Callanan is the author of Scarecrow [Killick Press, 2003], critically-acclaimed first book of poems, and Sea Legend [Frog Hollow Press, 2010], winner of the bpNichol Chapbook Award. His poetry has appeared in several anthologies, including Breathing Fire 2: Canada's New Poets. He lives in St. John's, Newfoundland.

Trade paperback
72 pp 8.5" x 5.5"
ISBN13: 9781550653229

CDN $18.00 US & International
US $18.00