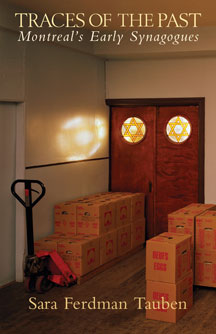 Traces of the Past: Montreal's Early SynagoguesSara Ferdman Tauben
To document the movement and development of Montreal's Jewish community from the 1880s until 1945, much like a detective, Sara Ferdman Tauben has pored over historic city maps and directories, sepia coloured photos, brittle newspaper articles and long forgotten anniversary publications to track the locations of Montreal's early synagogues. Her quest results in a fascinating story that describes and defines the social, religious, and economic aspects of a distinct group of people through the architectural traces of its culture.

The decades surrounding the turn of the twentieth-century marked the era of mass migration of the Jews of Eastern Europe. Fleeing poverty and persecution, some came to Montreal. They left places with names like Minsk, Pinsk, Morosh, Galicia, and Dinovitz, to settle on Montreal streets with names like St. Urbain, St. Dominique and St. Laurent. To retain familiar traditions and familial connections, they established small congregations which recalled the homes they left behind. The Pinsker Shul, Anshei Morosh, Anshei Ukraina, and Anshei Ozeroff were not only places of worship but also places where friends and family from the same country, area or town could meet, exchange concerns, lend support to each other and resolve to help those left behind.
History 2011
Praise for Traces of the Past: Montreal's Early Synagogues

"Tauben's Traces of the Past is the paramount authority on Montreal's historic synagogues, and perhaps the best study yet on Canadian synagogue architecture." -Canadian Jewish Studies
Sara Ferdman Tauben has a Master's degree in Judaic Studies. She has been an active leader in the Montreal Jewish community for 30 years. A retired fashion designer and interior designer, she lives in Montreal.

160 pp 8.5" x 5.5"
ISBN13: 9781550653168

CDN $18.95