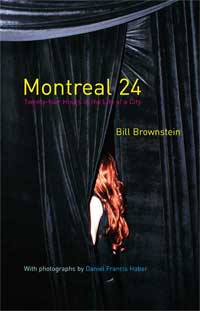 Montréal 24: Twenty-four Hours in the Life of a CityBill Brownstein
24 Montreal locations, each visited at a different hour of the day. 24 hours in the life of a city that never sleeps. Author Bill Brownstein writes about the owners, workers, and patrons; Daniel Haber took the pictures. These are stories about people and places that make Montreal unique.
Véhicule Press
Social Science 2008
Bill Brownstein is a columnist with the Montreal Gazette, and the author of Schwartz's Hebrew Delicatessen: The Story. He made two documentary films, Bill Lee: A Profile of a Pitcher, about former Montreal Expos pitcher Bill "Spaceman" Lee and Skating on Thin Ice, about the nomadic life of two journeymen hockey players in the NHL. He is the author of Sex Carnival, a whimsical peek into the wide world of sex, and Down the Tube, an account of the week he spent watching TV. He is also co-author and co-editor of The Great Canadian Character Anthology, and a lover of smoked meat.
Other books by Bill Brownstein:
Schwartz's Hebrew Delicatessen: The Story

Ebook
24 colour illustrations
8.5" x 5.5"
ISBN13: 9781550652697

CDN $18.95
Trade paperback
24 colour illustrations
160 pp 8.5" x 5.5"
ISBN13: 9781550652444

CDN $18.95 US & International
US $18.95