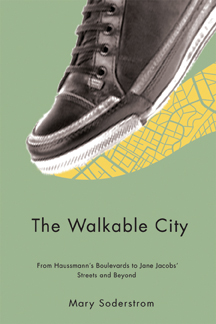 The Walkable City: From Haussmann's Boulevards to Jane Jacobs' Streets and BeyondMary Soderstrom
The idea that a city might not be walkable would never occur to anyone who lived before 1800. Over the past 200 years there have been dramatic changes to our cities. With the very best intentions, Baron George Eugène Haussmann ruthlessly transformed Paris in the mid-19th century. Its broad boulevards and grand vistas are the direct result of Haussmann's thinking about how to adapt cities to a new age. In North America cities were "redeveloped" to accommodate the automobile and automobile-dependent suburbs. The city was no longer walkable, and in the 1960s activist-writer Jane Jacobs began to critique many of the ideas about how cities should be organized.
Taking us on walks through cities like Paris, New York, Toronto, North Vancouver and Singapore, Mary Soderstrom examines how cites have changed the lives of ordinary citizens-in positive and negative ways. Making the city walkable again is crucial. The author looks to the future and suggests ways in which we can reorganize our lives and our cities.
Véhicule Press
Architecture 2008
"Settings are established with an understated deftness. ... While Corriveau sometimes seems to be drawn to more exotic characters, his confident voice, paired with a restrained and minimal prose style, carries these flourishes convincingly. .. These stories are convincingly rendered, with a quiet and controlled use of language that persuasively evokes place and character. Punctuating these realistic portraits are moments of fantasy and escapism [which] provide a lush contrast to the estrangement and unspoken tensions between characters. Corriveau has penned a rich and varied contribution to the short story form." -Montreal Review of Books "He is a writer of talent and stylistic flair." -Montreal Gazette

Ebook
40
8.5" x 5.5"
ISBN13: 9781550652659

CDN $22.95
Trade paperback
40
240 pp 8.5" x 5.5"
ISBN13: 9781550652437

CDN $22.95 US & International
US $22.95