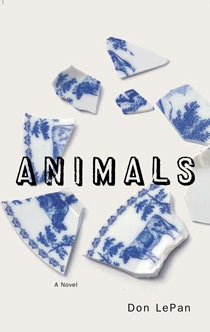 Animals: A NovelDon LePan
A powerful tale that compels us to consider our relationship to the fellow creatures that we love, abuse, and eat.

Animals is a novel set in an indeterminate future in which virtually all the species that humans have for millennia used as food have become extinct; the world this change creates is at once eerily foreign and disturbingly familiar. In the sharp-edged poignancy of the ethical questions it poses, in the strikingly innovative narrative techniques it employs, and above all, in the remarkable power of the story it tells, Animals is, quite simply, unique.
Esplanade Books
Fiction 2009
"Animals is a powerful novel, and a fully convincing one…" —P.K. Page

"…well written and engrossing. I found that the story hooked me from the start." —Angus Taylor, Animals and Ethics

"Immediately gripping and deeply moving."—Kathryn Shevelow, For the Love of Animals

"Provocative, original, beautifully crafted and achingly human, this is a novel that illuminates what we so-called 'higher beings' strive to keep darkly hidden from our consciousness. No more, no more. Animals takes the antiseptic cellophane off the meat; it is destined to become a classic."—Catherine Banks, Bone Cage
Don LePan is the founder and president of the academic publishing house Broadview Press. His books include a study of Shakespeare's plots and of cognitive history, an overview of common errors in English, and a monograph on Tennyson's war poetry. This is his first book of fiction. He lives in Nanaimo, British Columbia.
No longer available through Vehicule Press