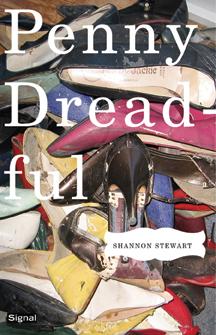 Penny DreadfulShannon Stewart
Penny Dreadfuls were popular, cheaply produced 19th century magazines filled with brutal and sensationalist tales. In her uncompromising second collection of poetry, Vancouver poet Shannon Stewart revisits their grisly spirit through a series of meditations that examine the media's obsession for luridness, be it tabloids or "respectable" newspapers. At the centre of the book is the story of accused serial killer Robert Pickton. In poems of great psychological risk-taking, Stewart tracks the missing women of Vancouver's East Side and describes-using a voice by turns gritty, funny, shrewd, and broken-hearted-how the gruesome details of their reported murders seep into her role as a mother and wife. Fable-like, ribald, and packing a powerful anti-puritanical punch, Penny Dreadful furnishes us with unsentimental X-rays of the contemporary world and its sundry terrors.
Véhicule Press
Poetry 2008
Shannon Stewart's first book, The Canadian Girl [Nightwood Editions, 1998], was finalist for the Milton Acorn People's Poetry Award and Gerald Lampert Award for Best First Book of Poetry in 1999. Shannon Stewart was born in Ottawa in 1966 and raised in British Columbia. She holds an MFA in Creative Writing from the University of British Columbia, She lives in Vancouver.
Trade paperback
76 pp 8.5" x 5.5"
ISBN13: 9781550652451

CDN $16.00 US & International
US $16.00

Ebook
8.5" x 5.5"
ISBN13: 9781550652772

CDN $16.00